Found Objects Galore
Found Objects Galore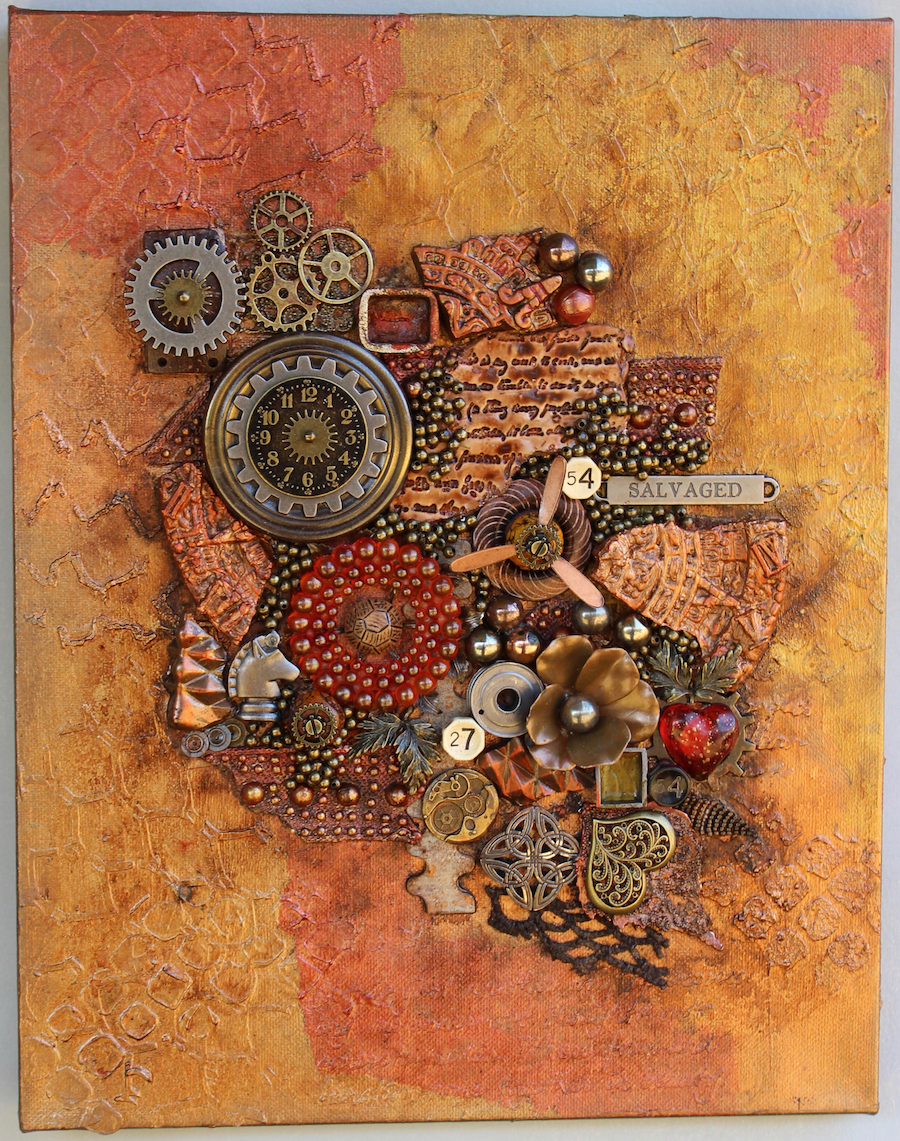 SOLD
Other artwork available for purchase at Art Creations by Vicky
Another steampunk creation although this falls into the traditional assemblage canvas as well. My Assemblage Canvases are filled with objects adhered to the canvas and this one has a higher percentage of what I refer to as "found objects" – vintage or older pieces I find at estate sales or flea markets. In fact, this artwork contains far more of these found objects than the newer elements.
Let's start with the found objects – all of which fall into the vintage category as well: watercolors, pieces of a resin clock face, beaded purse sections, adding machine keys, furniture trim, bobbin, large beads, red 3D heart, red wreath brooch, knight chess piece, 7″ metal gear, beaded leaf, button, crocheted collar pieces, large metal star, metal flower, and diamond glass pieces.
The newer elements include gears, filigreed rounds and squares, bracelet link, large beads, clock face, word charm, propeller, button, various leaves, Celtic cross, metal heart, and other metal embellishments. There is a scripted piece of polymer clay crafted by yours truly. You'll also find dozens of small metal beads.
On a 14″ x 11″ stretched canvas, the depth of this piece is 1.75″. The background has multiple coats and spritzes of paint with stenciled textured designs and pieces of lace collar providing an additional dimension. Once the multiple layers of embellishments are added, the piece is further enhanced with metallique and antique waxes and more spritzes of paint.
Hangers are attached and, while I prefer the no-frame look, this is ready for framing. This piece will also display nicely on a large table easel.
Dimensions: 14″ x 11 x 1.75″
SOLD
All Assemblage Art pieces sold at Art Creations by Vicky are original works from artist Vicky Hensley and one of a kind.