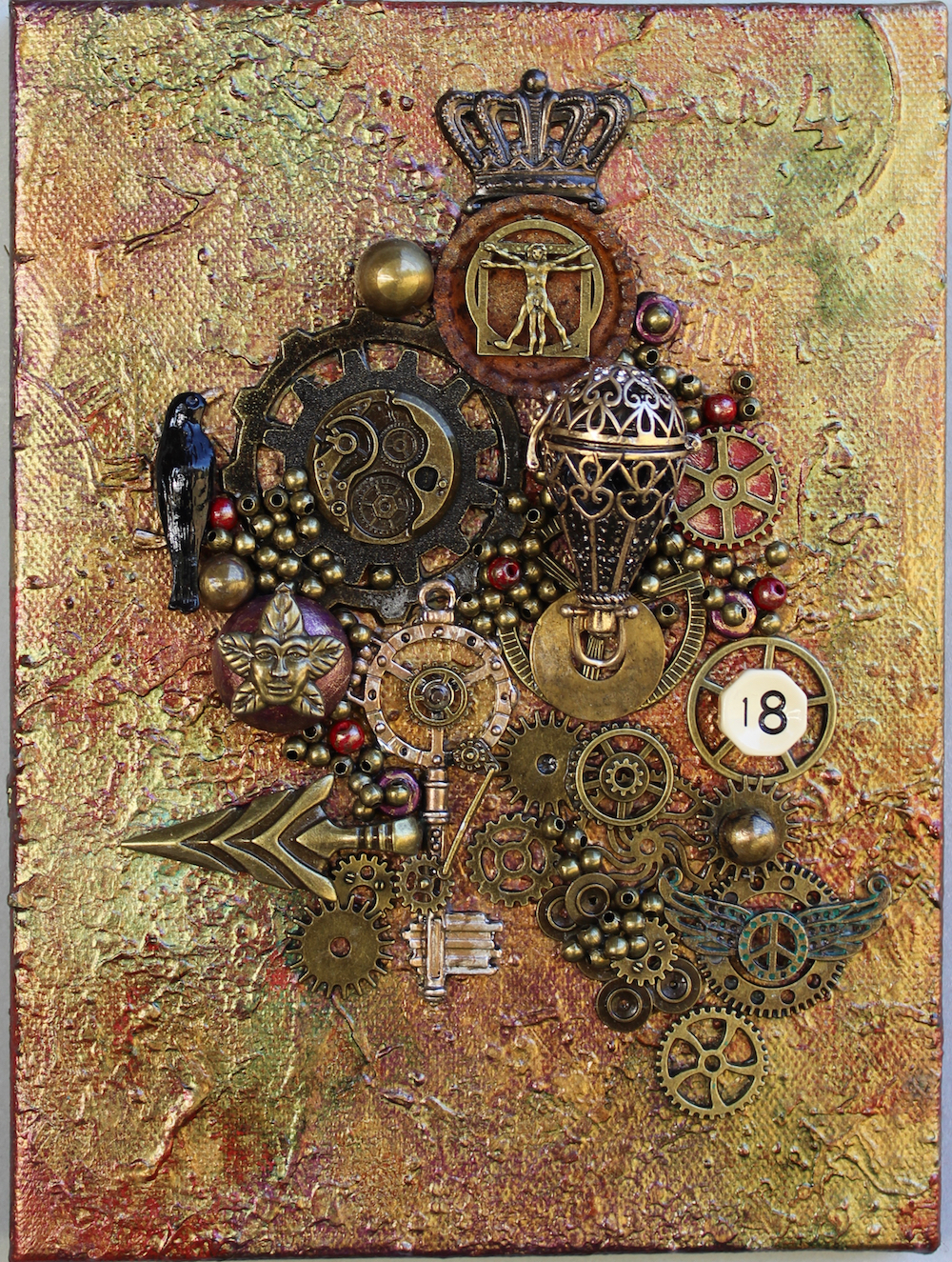 Despite our website's continued wonky look, I'm posting again. This technophobe will resolve those technical issues later – it's time to turn back to the important issues – new Assemblage Art!
I have several finished works to share with you this week starting with this smaller steampunk I listed a few weeks ago. With its intricate design and lower than average price, it immediately started garnering "likes" on Etsy.
Finding this little balloon inspired me to give it a story. And since hot air balloons are such prevalent symbols of the steampunk era, what better way to tell that tale than to surround it with other symbols of that fantasy period.
And not for the official description…
Celebrating the true age of steampunk, this Assemblage Canvas features many symbols of that era with gears, wings, hot air balloon, crown, and raven – for starters.
Measuring 8.0″ by 6.0″ with a depth of 1.375″, the background is textured with stenciled modeling paste and finished off with a number of paints, spritzes, and metallic waxes. I realize there is a slightly different look to the paint in the pictures. This is due to the metallic paint – straight on shots catch the light and make the paint look lighter than it is. Pictures taken at an angle depict the color as you will see it.
Vintage objects include an adding machine key, clock gear, and beads. Newer elements include Vitruvian man, crown, bottle cap, metal beads, numerous assorted gears, raven, hot air balloon, arrowhead, winged peace sign, wood domed round, and various beads and metal embellishments.
Hangers are attached and, while I prefer the no-frame look, this Assemblage Art piece is ready for framing. It will also display nicely on an easel.
Original article updated Nov, 2017 to include current status – SOLD
Dimensions: 8.0″ x 6.0″ Depth 1.375″
Hangers are attached and, while I prefer the no-frame look, this is ready for framing. This piece will also display nicely on a large table easel.
You can find more images of this artwork on its page – A Balloon Ride.
All art sold at Art Creations by Vicky is the work of artist Vicky Hensley and one of a kind.
SaveSave
SaveSave
SaveSave
SaveSave
SaveSave