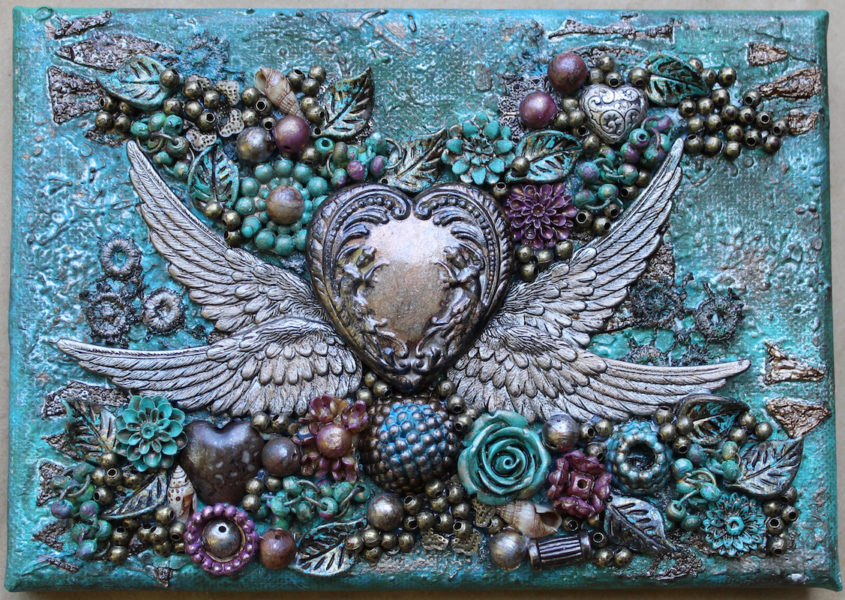 My art studio is undergoing a renovation. Everything has been moved out as we replace the flooring – we're ridding ourselves of the carpet. Every day, I spend a significant amount of time in the studio and I want both my cat, Mia, and my dog, Thomas, with me as I create. However, Thomas is a six-month-old puppy… and carpet just doesn't work when the back door is across the house, down the stairs, and across the house again. Puppies mean one must be prepared just in case the trip outside is a bit too long. And the added bonus, I won't have all that carpet to contend with in case I have a spill.
Not having my art studio available though, means I've been creating in rather crowded areas (all the art furniture is stuffed into nearby bedrooms) so I've kept my projects small. I listed two new pieces this past weekend and here's the first that I'm calling Hearts and Wings. It's an addition to my Heart Art line and I'm back to my favorites – blues and hearts.
Now for the official details…
_______________________________________
Hearts and wings fill this 7″ x 5″ piece of assemblage art. I think it's best described as 3D heart art – this isn't just a  painting. It is three dimensional with more than 50 embellishments (found objects) plus dozens of beads adhered to a stretched canvas.
Assemblage is the method of creating a larger art piece from smaller objects. My assemblage art is on canvas rather than free standing and has strong steampunk overtones. With its three hearts, this one also carries a strong message of love.
Found vintage items include antique lace, jewelry makings, beaded necklace, earring, and beads. New elements include floral cabochons, shells, filigreed rounds, leaves, beads, hearts, wings and various metal embellishments.
The background is stenciled with modeling paste and covered with several colors of multiple paints which is then highlighted by spritzes of metallic. The depth of the overall design is approximately 1.375″.
There are attached hangers. Although most of my Assemblage Art pieces can be framed, I don't suggest framing this one. Embellishments hang over the edges as part of its intricate design. This piece will also display nicely on an easel.
SOLD
Available for purchase at Etsy
Dimensions: 7" x 5" x 1.375″
All art sold at Art Creations by Vicky is the work of artist Vicky Hensley and is one of a kind.
SaveSave
SaveSave