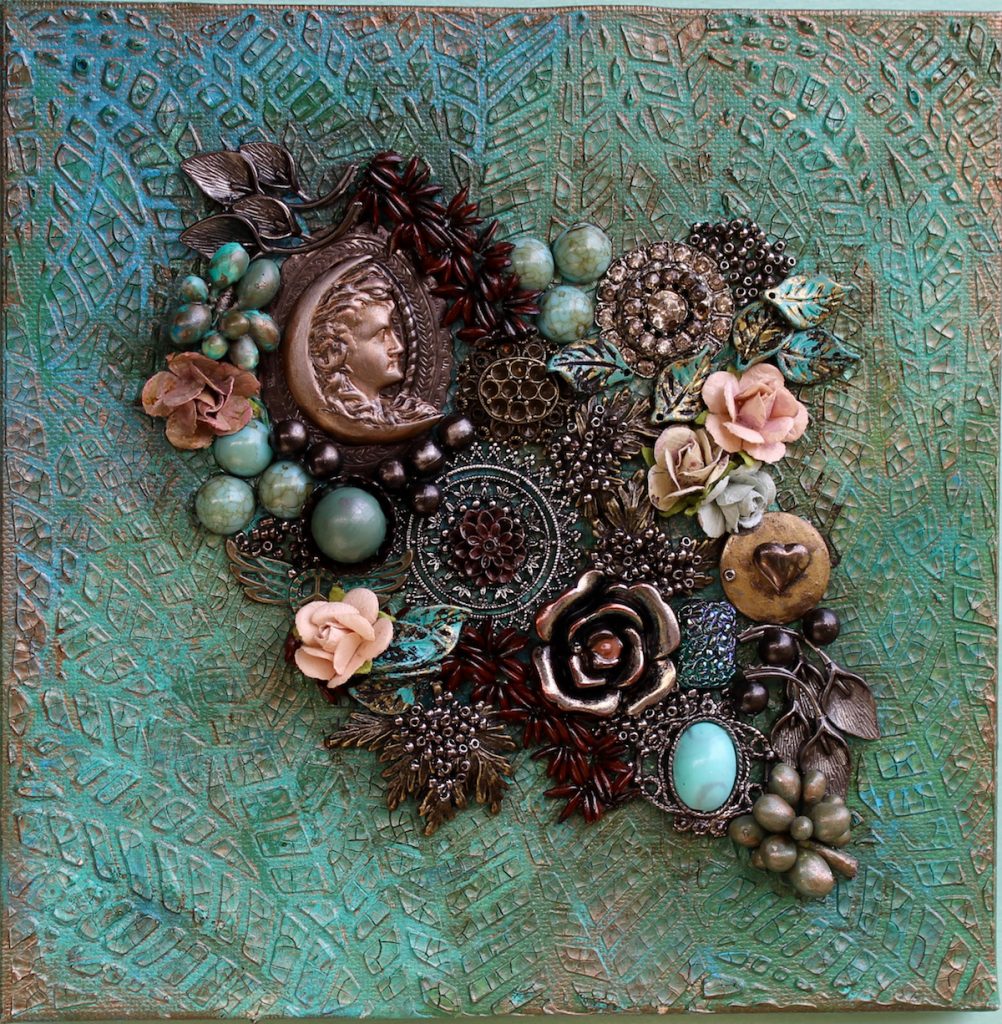 Things are moving quickly around my art studio. I've been organizing even more plus creating. I love organization and have to create in a clean space but organizing yet again (!) makes me feel like I'm loosing production time. Eeeek!
You see, my art room has grown to three rooms now (therefore the use of "studio") which means I'm driven to make sure every inch is used properly. But in the end? I actually produce more when every element is in order. Organizing thousands of found objects and my newer elements has been time consuming in the extreme but deciding I need a moon and reaching for a tagged sectioned container that tells me "moons" are within, well, it's terrific! So, I'm creating more with even more joy these days!
And here is my latest – A Lady Moon rather than your typical "man in the moon" scenario…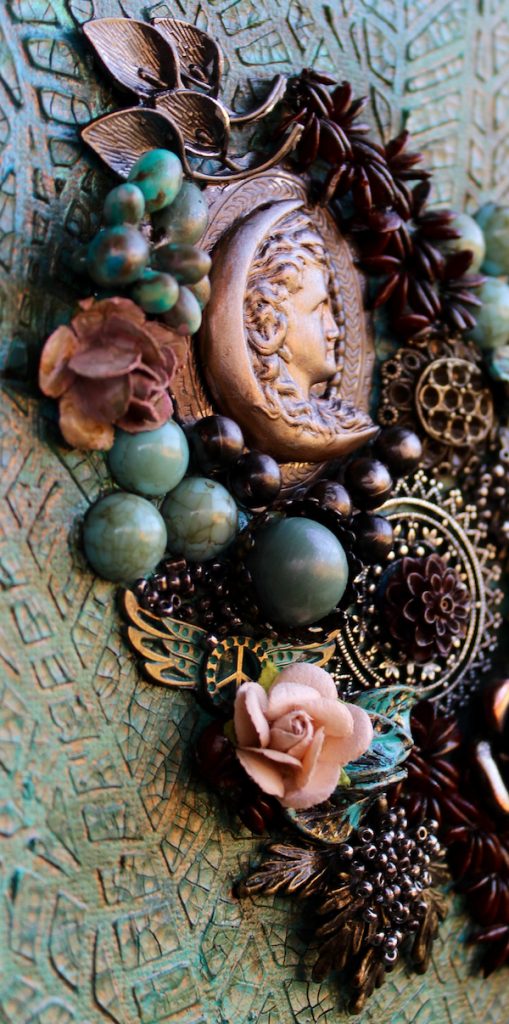 With a whole lot of beauty and a lady sitting on the moon, this Assemblage Canvas exudes a definite romantic feminine feel… with a little whimsey, of course. I've named it "A Lady Moon" and love that we have a "lady in the moon" rather than the traditional man. Measuring 8.0″ by 8.0″ with a depth of 1.50″, the background is textured with stenciled
modeling paste and finished off with a number of paints, spritzes, and metallic waxes. Embellishments are then adhered to the canvas to form a three-dimensional design.
You'll find more than 50 embellishments plus dozens of tiny metal beads in this piece of Assemblage art. Older elements (found objects) include an oval cameo base, beaded necklace sections, brooch, button, earring, square bead, and various other beads. Newer elements include the lady moon stamping, paper roses, numerous metal embellishments, cabochons, bracelet section, the tiny beads, and pieces of a berry wreath.
Hangers are attached and, while I prefer the no-frame look, this Assemblage Art piece is ready for framing. It will also display nicely on an easel.
Dimensions: 8.0″ x 8.0″ Depth 1.50″
$79.95
Available for purchase at Etsy
All art sold at Art Creations by Vicky is the work of artist Vicky Hensley and one of a kind.