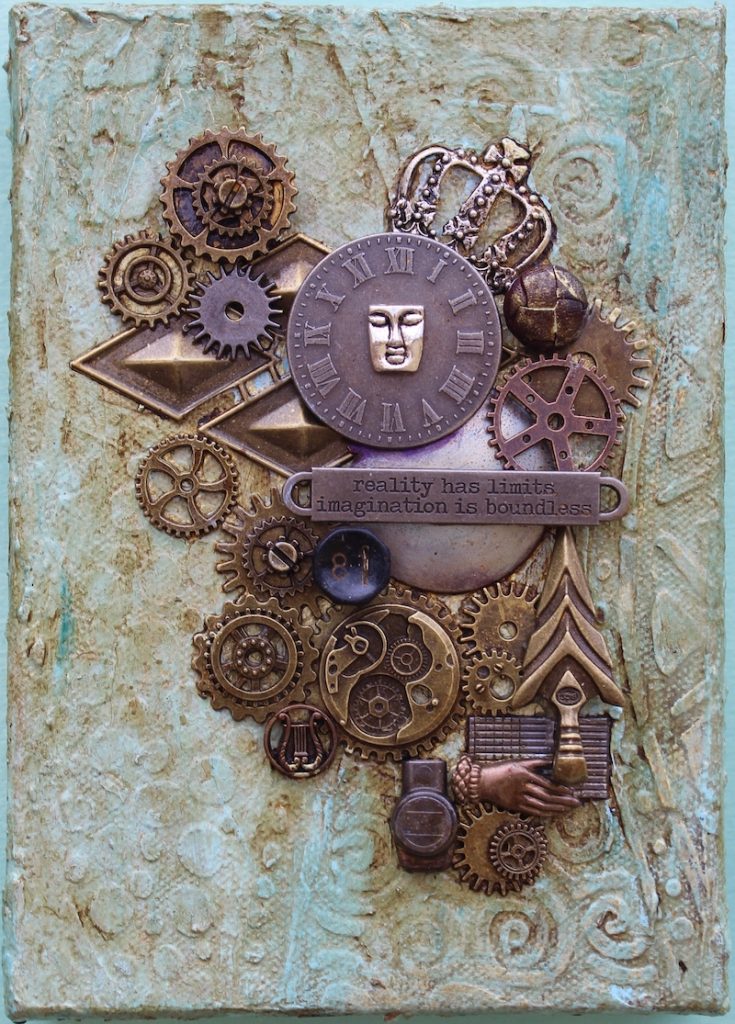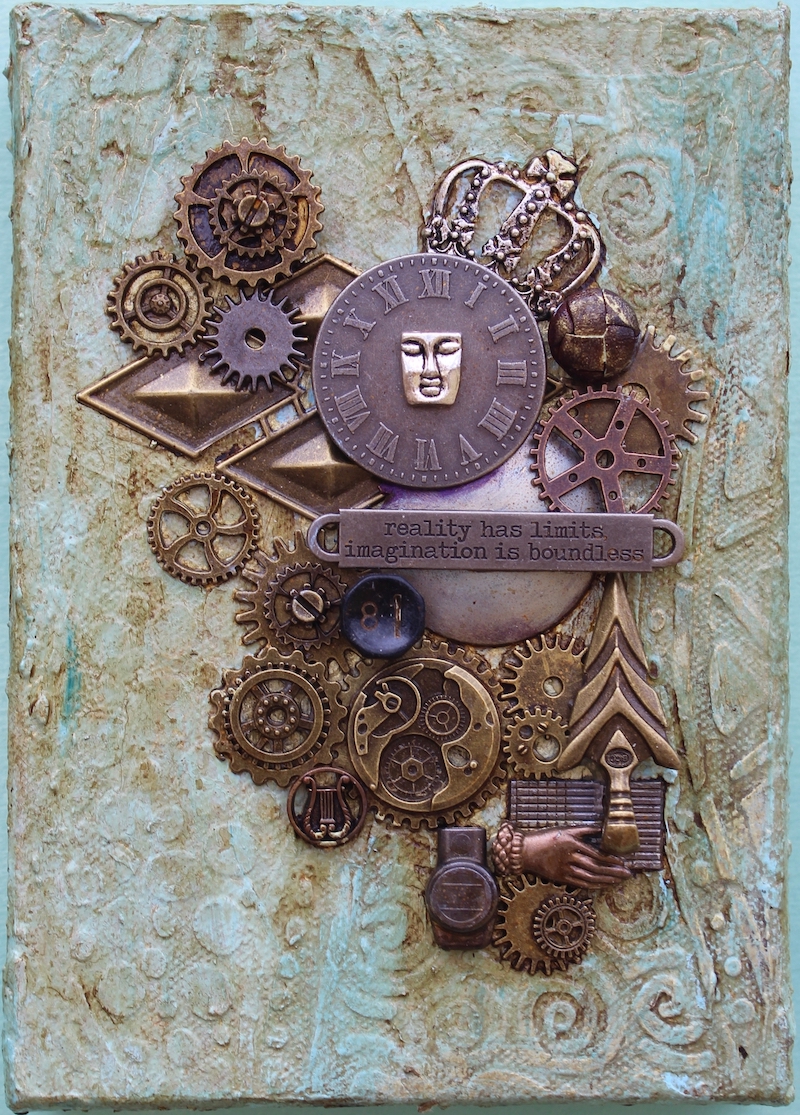 It's been busy around here as usual but this time with aspects of my commitment to art other than creating art to sell. I'm back in gear and working intently on a "two makes one" piece of art – two 12″ x 24″ canvases that hang together to form one design. When on the wall, the piece will measure 25″ x 24″.
This two piece design is actually in its second life. I had the first set of two well on the way with a background covered in an intricate one-of-a-kind texture and many of the embellishments adhered to the canvas when I put a hole in the canvas. Eeek – ouch – that has never happened to me before! I was using my gourd carver to adjust that "oh so special" texture and wham! The burr went right through the canvas. Problem? I couldn't recreate the background on a new second canvas that matched the remaining undamaged original. And I won't use a patched canvas on a piece I'm selling. So, I removed all those embellishments (I had some great found objects expertly adhered) and ended up cutting the second canvas to pieces as I salvaged nearly every piece. Gah.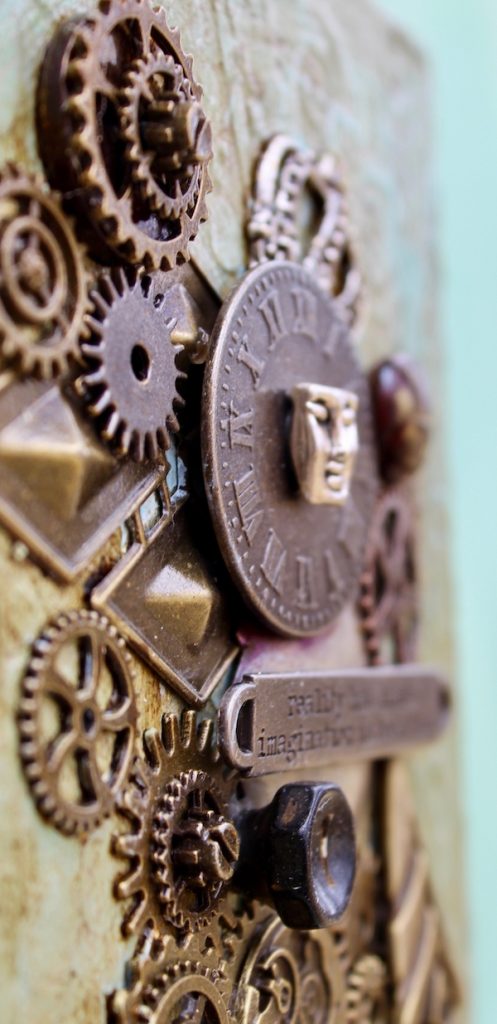 For a brighter art tale, I've discovered the glory of deeper canvases for smaller works. Creating these smaller works on gallery wrapped canvases are such a delight. Measuring 7.0″ x 5.0″ x 2.25″, it's a terrific shape to display in multiple spaces. It works well in a wall arrangement and is especially effective in your smaller spaces – a smaller wall, a nook, or that skinny wall.
Now for the official description of this newest work…
A BIT OF WHIMSEY MIXED with a lot of steampunk makes this Assemblage Canvas creation especially eye-catching. And it reminds us that "Reality has limits. Imagination is boundless."
Measuring 7.0″ by 5.0″ with a depth of 2.25″, the background is textured with stenciled modeling paste and finished off with a number of paints, spritzes, and metallic wax. On a gallery wrapped canvas, its deeper dimension makes for a wonderful wall display.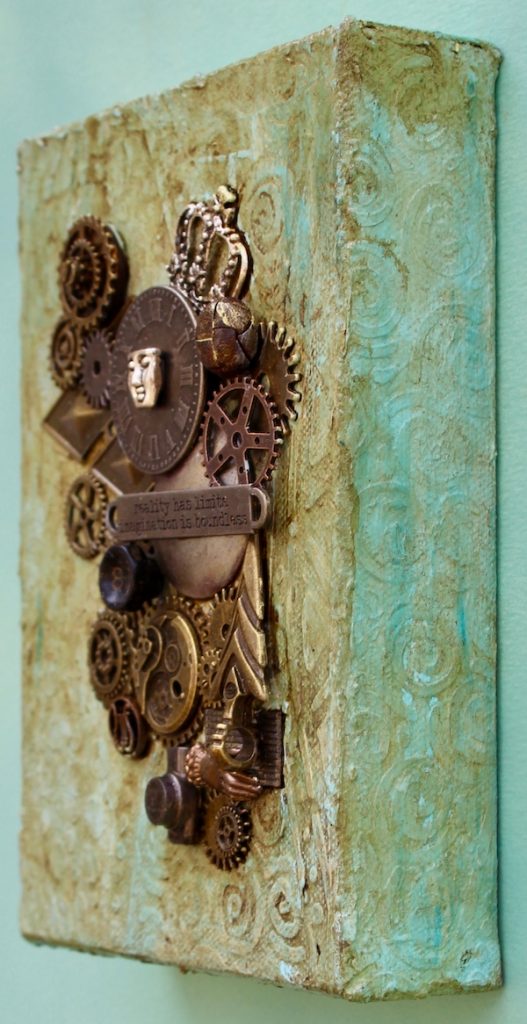 Dimensions: 7.0″ x 5.0″ Depth 2.25″
$59.95
Available for purchase at my Etsy shop
All art sold at Art Creations by Vicky is the work of artist Vicky Hensley and one of a kind.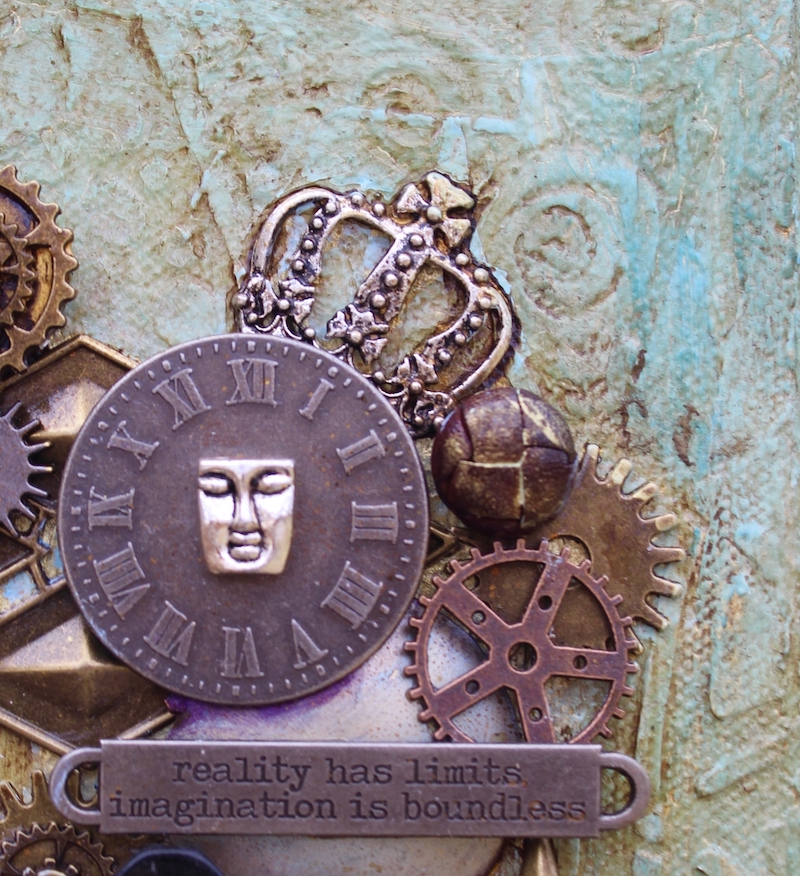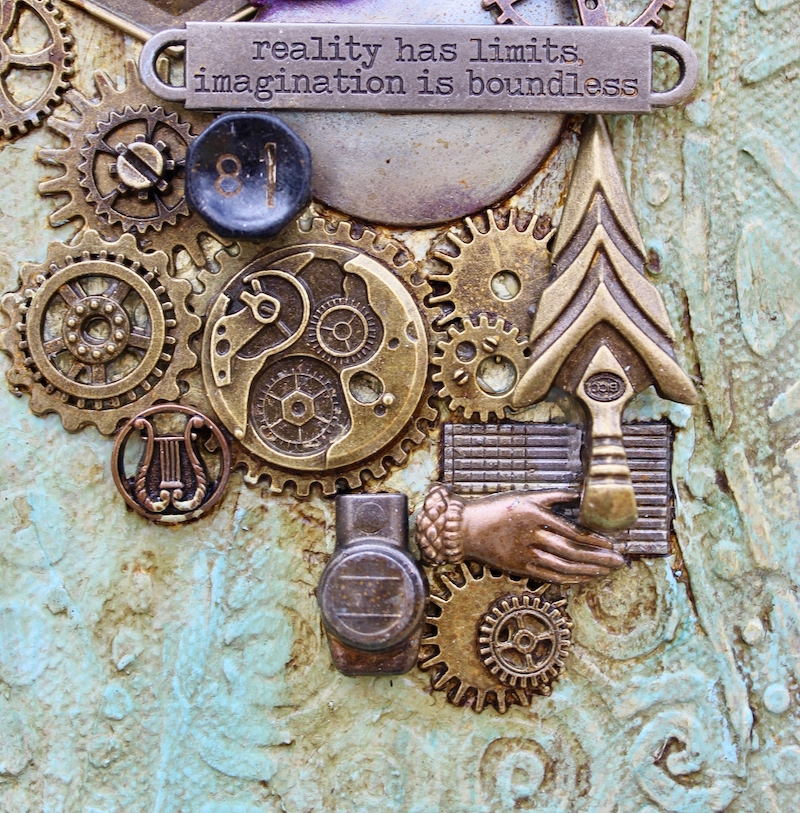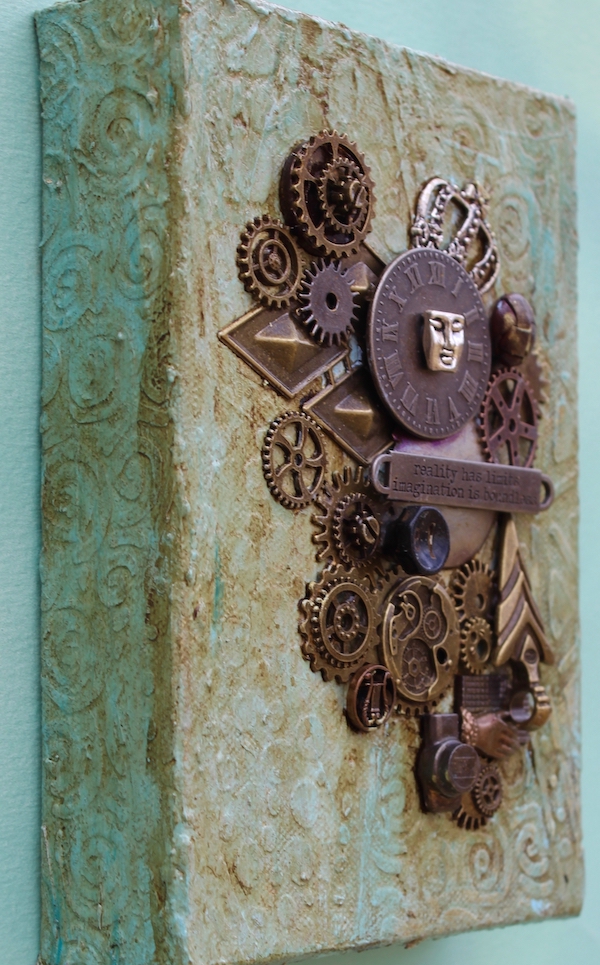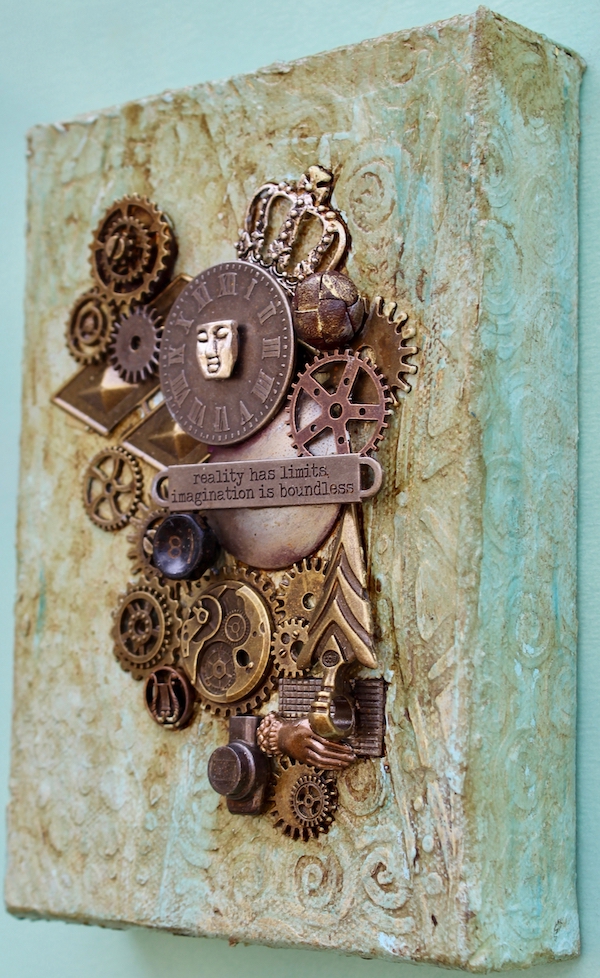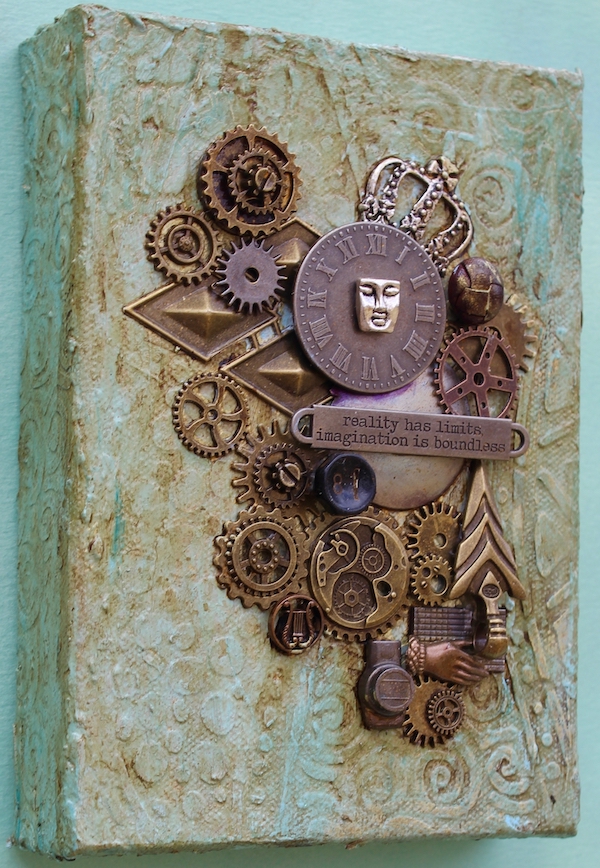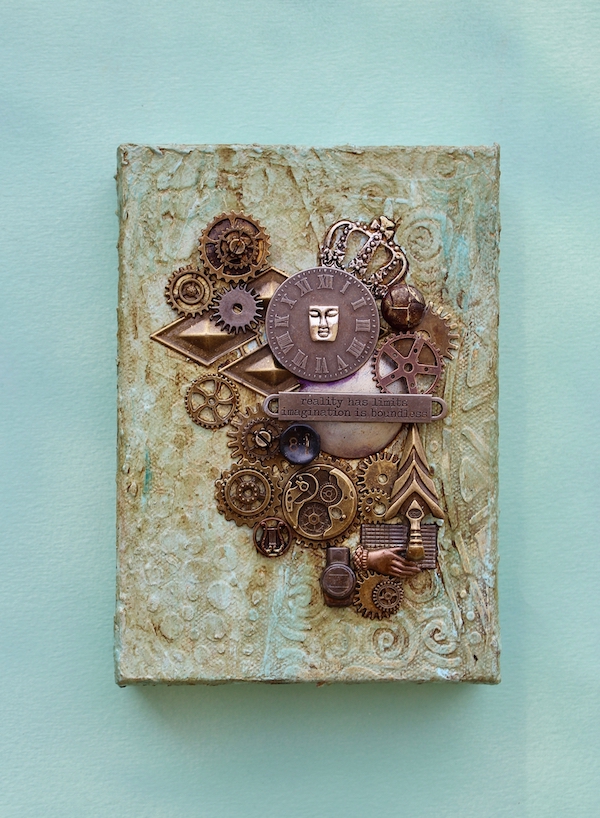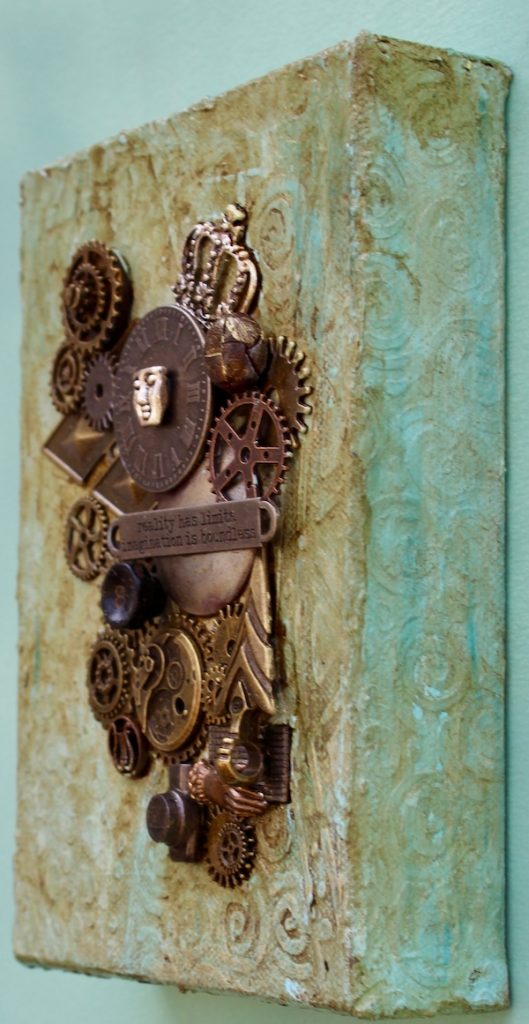 Hope you are enjoying the change of seasons – even if winter is hanging on a little too long or your spring is already stormy. (Prayers for Alabama and Georgia).
Vicky