Heart Hill – 3D Canvas Collage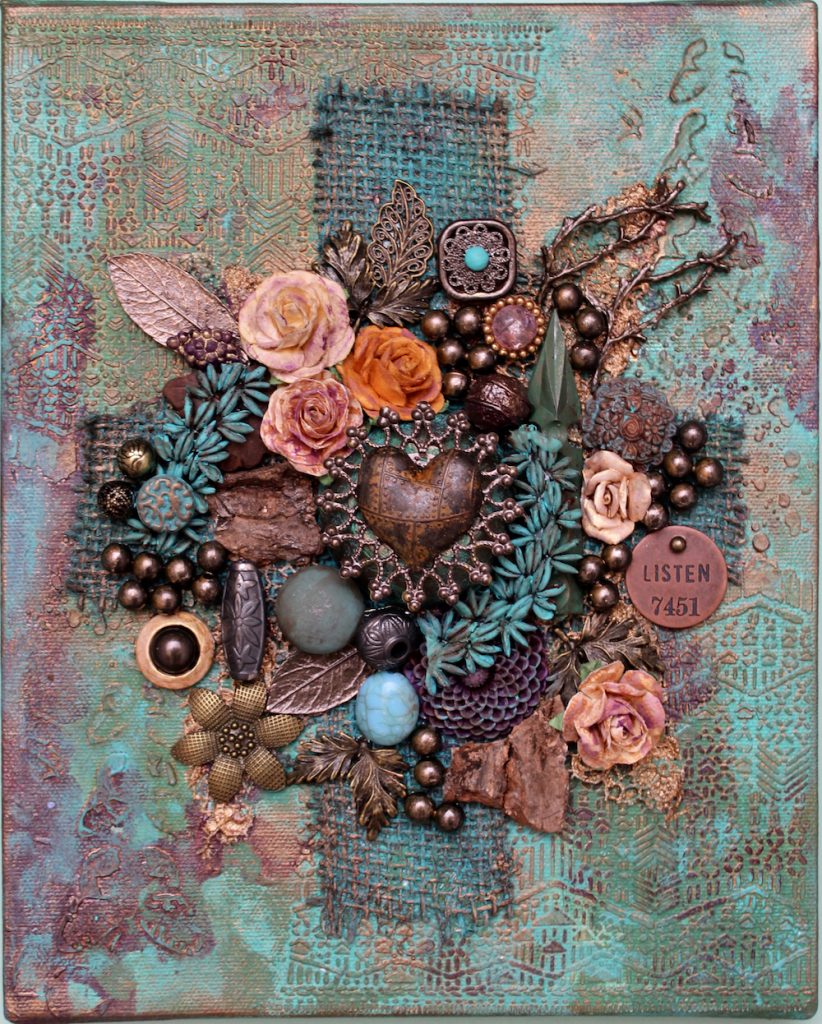 SOLD
Other artwork available for purchase at Art Creations by Vicky
At the start of this Assemblage creation, I knew two things – the basic color scheme of turquoise, green, and purple (which evolved) and that I wanted a more romantic piece this time around. And then I started building to see where it would go and now find myself in love with the end product! I'm calling it Heart Hill as the focal point brings this piece to 2.0″ in depth which gives this 10.0″ x 8.0″ canvas a highly defined 3D feel with multiple layers of embellishments.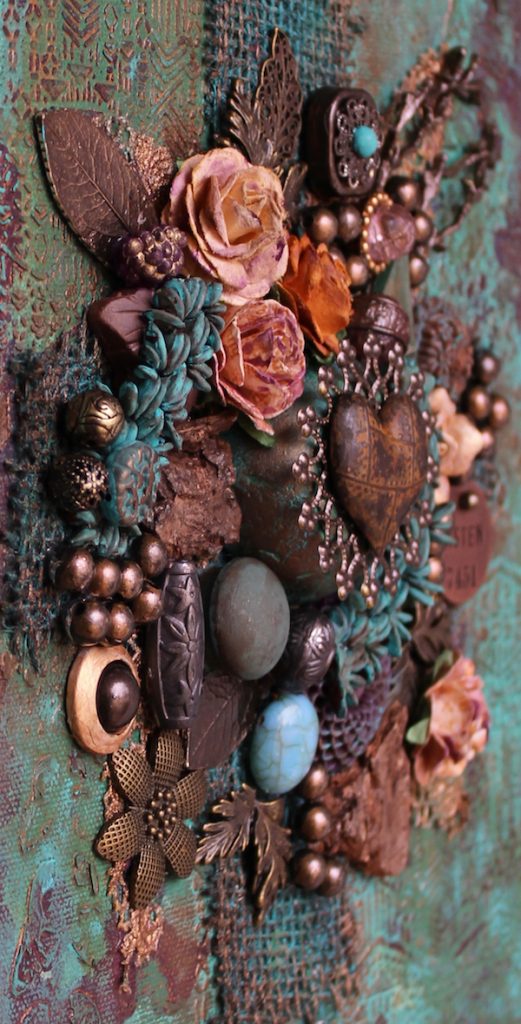 Texture takes a starring role in this Assemblage Canvas piece with a background built first from multiple coats and spritzes of paint and waxes that were then layered with several stencil designs utilizing dimensional paste, burlap, and antique lace.
Just what is Assemblage? It's the creation of a larger art piece from smaller objects. Best described as a 3D collage on canvas, my assemblage art pieces contain numerous vintage "found objects" as well as newer embellishments. This Assemblage Canvas contains around 75 found objects or newer elements.
Here those vintage found objects include the antique lace, necklace pieces, buttons, 1980s jewelry makings, hanging plastic crystal, porcelain rose, wooden leaf, and papier-mache bead.
Newer elements include patched heart, filigreed metal round and leaf, paper roses, various metal leaves, beads, cabochons, styrofoam ball, bark, decorative beads, metal flower, word charm, metal branches, and wooden round.
Hangers are attached and, while I prefer the no-frame look, this Assemblage Art piece is ready for framing. It will also display nicely on an easel.
Dimensions: 10.0″ x 8.0″ x 2.0″
SOLD
All Assemblage Art pieces sold at Art Creations by Vicky are original works from artist Vicky Hensley.