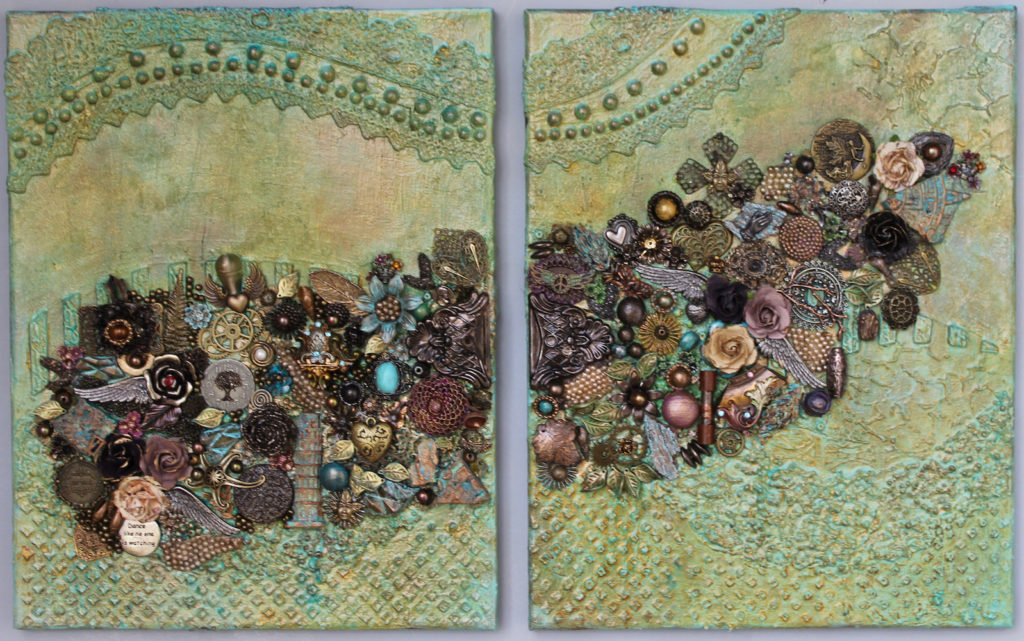 This "two canvases make one piece" work of art is my most elaborate work to date. With over 350 embellishments, it's the background that puts this one over the top. Before adding the embellishments of the primary design, more than 80 embellishments were used to create a background design sweeping from one side to the other. Antique lace, cabochons, polymer clay script pieces, small beads, and textured stenciled designs are some of the items you will find in the background alone.
On two 11.0″ x 14.0″ stretched canvases, overall measurements of the work (when you include a 1.0″ space between the two canvases) are 23.0″ wide by 14.0″ high with an overall depth of 1.75″. The detailed background has multiple coats and spritzes of paint that is finished off with metallic wax. It is sold as a pair.
Many of the embellishments found in this work are found objects – older items that I have found while searching out estate sales and flea markets. I use a combination of found objects with newer elements. With approximately 350 separately adhered pieces, I'm unable to tell you the stories of all that you will find in this piece but I can provide you with the highlights.
Let's start with the vintage found objects: pieces of a pearl purse, various bracelet links, large daisy, wreath pin, electrical piece, star flowers, numerous 1980s jewelry makings, various beads, metal flowers, diamond glass, resin leaning Tower of Pisa, cameo bases, brooches, buttons, resin clock pieces, segments of an old picture frame, and more.
The newer elements include resin cabochons, paper roses, gears, winged heart and peace symbol, bracelet links, word charm ("dance like no one is watching"), metal filigreed embellishments, metal starfish, tree, wings, hearts, branch, central hinges, clock face, faces, leaves, and flowers, seashells, acorns, bark, buttons, beaded flower, and more.
There are attached hangers for wall hanging. Although most of my Assemblage Canvases can be framed, I don't suggest this particular pair. Embellishments hang over the edges as part of the intricate design.
Dimensions: Hung as a pair as shown 23.0″ x 14.0″ x 1.75″. Hung separately 14.0″ x 11.0″ x 1.75″
$195.00 for the pair
Available for purchase at my Etsy Shop
Pieces not sold individually.
All art sold at Art Creations by Vicky is the work of artist Vicky Hensley and one of a kind. 
Note: The use of descriptive words such as brass and pearl are just that – I can't verify that the beads are brass and assume the pearls are only decorative.