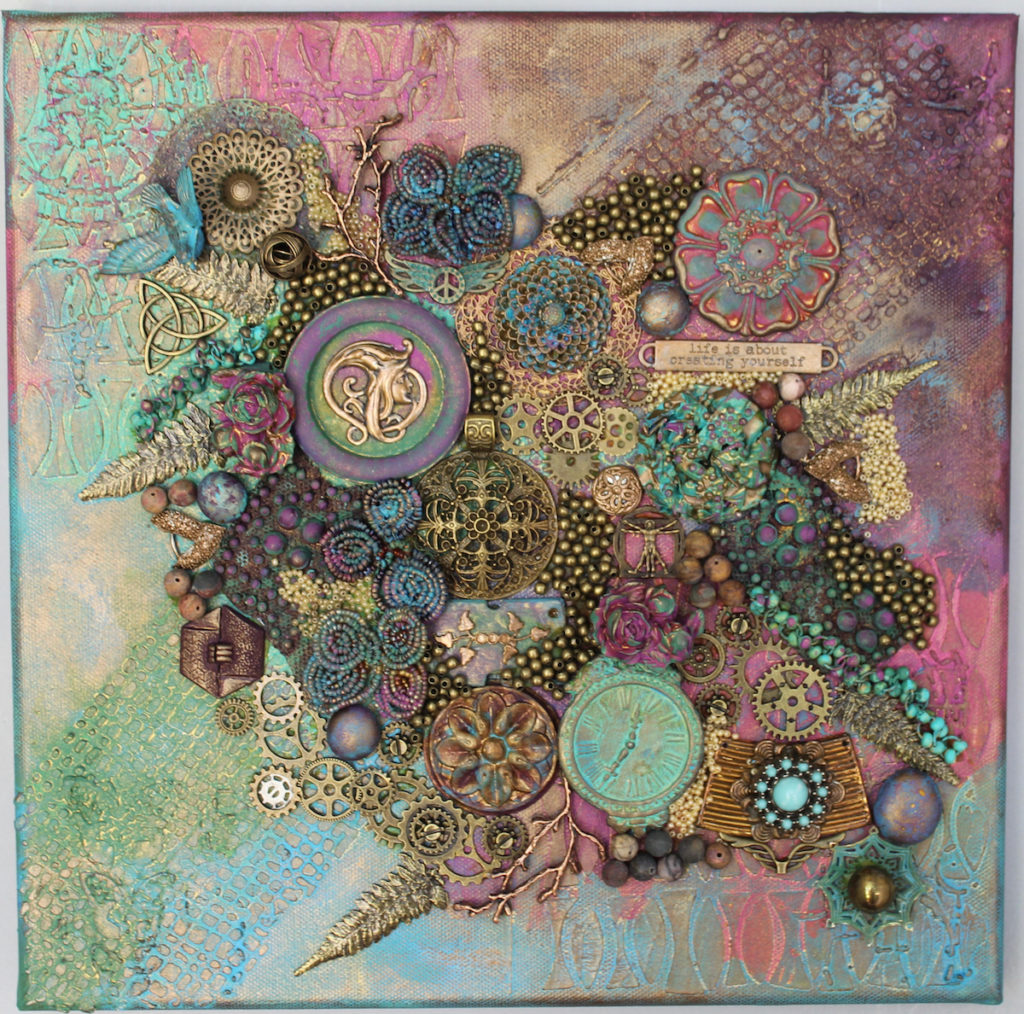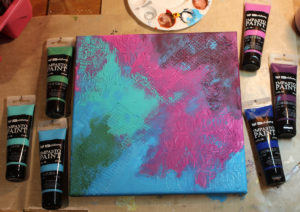 Recently I ran a post titled Adventure Time! I was working with a new paint line featuring gorgeous vibrant colors which was somewhat of a challenge for me. I adored the colors but I usually shy away from bright colors – the many small embellishments in Assemblage Art are the primary draw to this sort of art. I don't want the brightness of those colors taking attention away from the overall composition. And that is why I'm so thrilled with the results of my adventure. When I toned down the colors with various shades of bronze, they became a soothing yet colorful backdrop for the main attraction – the assemblage.
I can't say enough good about this new paint from Finnabair. A part of her Art Alchemy line, they are called Impasto paints. The colors used for this project are Jade, Bottle Green, Azure, Heather, and Aubergine. I can't wait to try more combinations and I'll even be adding a few more Impasto colors to my paint stash.
And now for the official description.
Adventuring – Colorful Yet Subtle
Colorful yet subtle – that's was my goal when I started working with this mixture of gorgeous yet intense colors. I chose a variety of bronze shades to subdue the brightness just a bit and I'm thrilled with the result!
Texture takes a starring role in this 12″ x 12″ piece as well with a background built with multiple coats and spritzes of paint and waxes over several stencil designs utilizing dimensional paste. And the embellishments! This assemblage canvas contains over 100 elements plus 200+ brass beads and hundreds of tiny cream beads. Its depth is 1.75″.
Just what is assemblage? It's the creation of a larger art piece from smaller objects. Best described as a 3D collage on canvas, my assemblage art pieces contain numerous vintage "found objects" as well as newer embellishments.
Here those vintage items include two chandelier plaster flowers, bracelet links, beaded flowers, beaded necklace, chunks of a 3D rose frame, buttons, pieces of beaded purse, segments of two necklaces, earring, circular metal piece, paper milk bottle cap, and a large brass bead.
Newer pieces include 3 filigreed rounds, winged peace sign, plastic flying bird, glass rounds, paper brooch, word band, cabochon, beads, and metal elements including beads, wings, branches, various symbols, filigreed pendant, spirit girl, leaves, and gears. There is also a polymer clay clock face fashioned by yours truly.
And engraved into the word charm, you'll find, "life is all about creating yourself."
Original article updated Nov, 2017 to include current status – SOLD
Dimensions: 12.0″ x 12.0″ x 1.75″
Hangers are attached and, while I prefer the no-frame look, this Assemblage Art piece is ready for framing. It will also display nicely on an easel.
All Assemblage Art pieces sold at Art Creations by Vicky are original works from artist Vicky Hensley.
Vicky
SaveSave
SaveSave
SaveSave