Mixed Media Collage with a Steampunk Vibe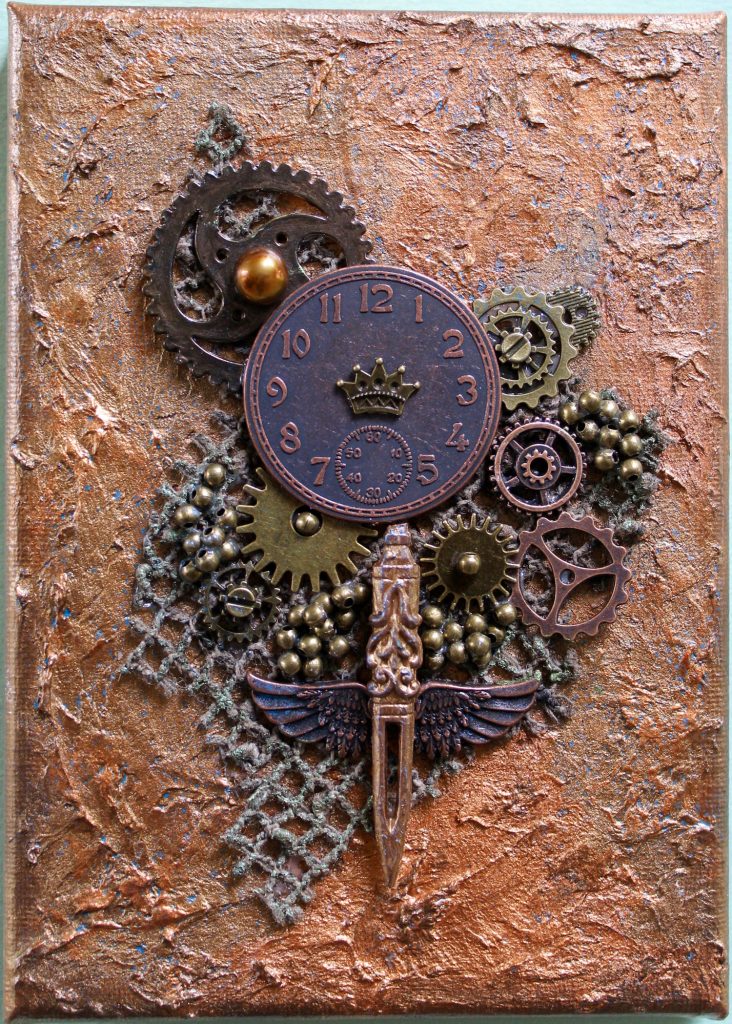 On a creative roll, I'm spending even more time in my art studio adding new artwork or readying larger pieces for introduction at a later date. As I surveyed my inventory, I realized I was low on steampunk works and added this 7″ x 5″ 3D collage – an unusual size for me.
I introduced a new process to my work with this art piece – a sculpturing paste fortified with toilet paper – you heard that right! It's a technique I learned from Maria Grossbaum-Fondler – better known as Abyssimo – in her online classes (there is a cost). This is only the beginning of what can be accomplished with her unique art methods. I have only the greatest respect for Maria – her work is absolutely beautiful.
And now for the particulars…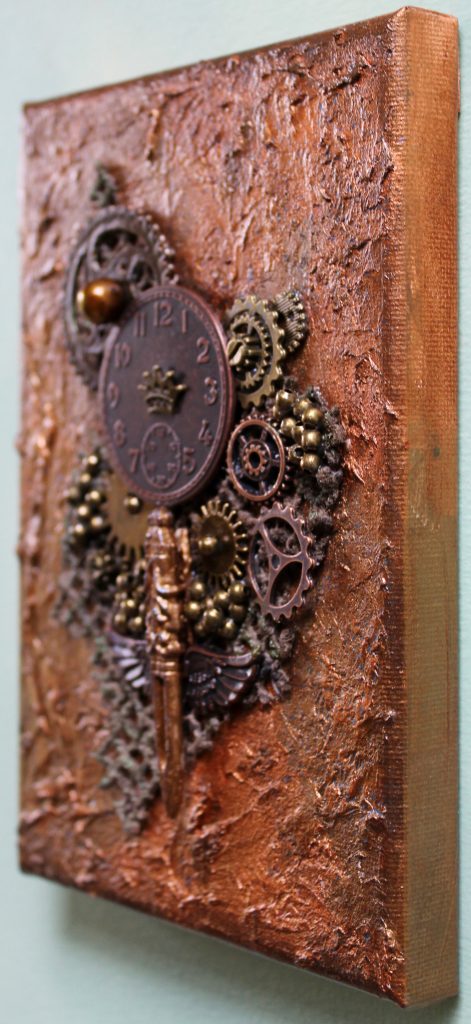 Steampunk remains big and here's my latest – fresh from my art studio. I love building a piece of art utilizing the industrial and Victorian aspects of this fascinating science fantasy sub-genre.
On a 7″ x 5″ stretched canvas, the depth of this piece is 1.0″. The background has multiple coats of paint, spritzes, and wax over a sculpted background. Fabric and then embellishments are added and finished off with spritzes of paint.
Embellishments include clock face, gears, wings, cloth, beads, and a vintage hors d'oeuvre fork.
Dimensions: 7.0″ x 5.0 x 1.0″
$54.95
Available for purchase at Etsy
Hangers are attached and, while I prefer the no-frame look, this is ready for framing. This piece will also display nicely on an easel.
All art sold at Art Creations by Vicky is the work of artist Vicky Hensley and one of a kind.