Welcome to Art Creations by Vicky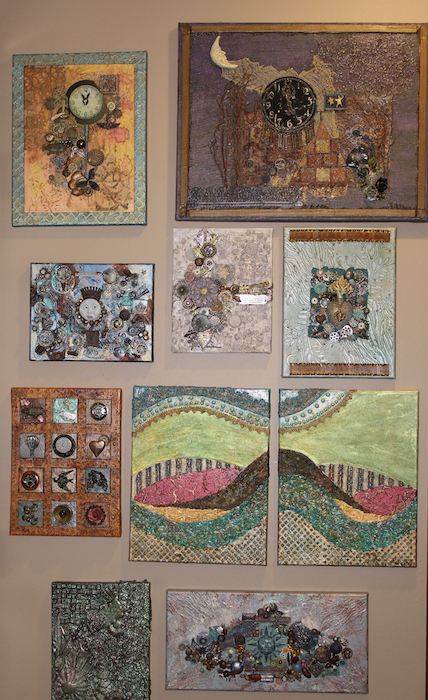 I've been artsy all my life but only recently started taking myself seriously as an "artist". Although I knew I was artistic, not many around me knew the depth of my artistic side as I had marked that part of my life as private.
Art is my escape from the every day world – my treasure – an activity so throughly fulfilling that it needs no outside encouragement to keep it moving forward. However, that said, I do love touching base with fellow artists and learning from one another. I do believe we can't create in a complete shell – that to grow as an artist, we need to see what is out there, master new techniques, and share our own work. In doing so, it  expands the scope of our own work and provides us with further inspiration.
Therefore, I'm finally doing it. I'm finally launching a site where I cannot only share my art work but teach others as well. By nature, I'm both an artist and a teacher.
What will you see here at Art Creations by Vicky? First of all, my works of art. I now create primarily in two mediums – Mixed Media Assemblage Art and Gourd Art. Eight years ago, I fell in love with Mixed Media and Assemblage art and started creating in a way that completely captured my imagination as I blended the two mediums into one. I also work with gourds, turning their hard shells into works of art by carving, burning, painting, staining, weaving, and adding adornments.
Both Mixed Media Assemblage Art and Gourd Art require a basis of knowledge. Of course, as a newbie, you can sit down and create in either medium and possibly be very happy with the result. But I have found myself more than a little lost when I attempt a new look without understanding the techniques needed to obtain that look. However, if you build slowly on your knowledge base in either medium, you can be very pleased with each step you take as your work becomes more sophisticated.
So, I'll be sharing methods I utilize when creating my artwork. The definition of Mixed Media and Assemblage Art almost defies description as it is so vast in its inclusion – it can be expressed in so many different ways. It takes learning a few basics and then expanding from there. Where do you want to take your work next? That's next on your list of learning. Fortunately there are thousands of YouTube videos and art blogs to provide you with step by step instructions. Find a style that speaks to you and follow those artists. Absorb the steps they teach you, personalize it, and then, turn out your own version. Respect the artist and resist the temptation to copy their creation (especially if you have any plans to sell) – it's all about learning techniques.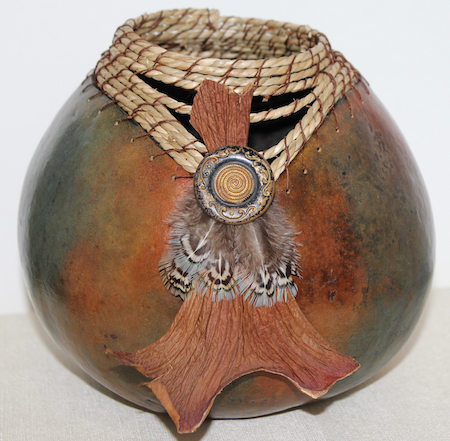 Gourd Art is the same – it takes learning the tools of the trade. Fortunately, I had a gourd artist to learn from those first days who greatly helped me establish a base of knowledge. I still rely on her expertise from time to time as she is a fantastic teacher and encourager. But, I create on my own although it is very much a work in progress. I plan on sharing some of these lessons with you as well.
My art room is a very special place to me and I love sharing ideas on efficient organization, storage, your all-important work station, and making it all visually pleasing and comfortable. So, we'll spend time talking about where we create.
I sell my artwork at Etsy – artcreationsbyvicky. My Mixed Media Assemblage inventory is strong right now – I still have many pieces waiting to be listed. I do have a small selection of Gourd Art and that will be increasing. I have been on a Mixed Media Assemblage kick lately and haven't been giving my Gourd Art first place. But my love of Gourd Art is as strong as ever and I'm sure it will have its turn at first place.
Finally, I sell "found objects" (little pieces of old stuff). I'm constantly on the hunt for the objects used in my Mixed Media Assemblage pieces and love exploring vintage marketplaces, flea markets, and estate sales. Each Mixed Media Assemblage piece features a number of these "found" objects and I usually have many more of these objects than I can possibly use. Therefore, I'm spreading the joy and selling some of my found objects – either individually or in a grouping (ever heard of destash?) in my Found Objects section on Etsy. It's a way for you to acquire unique items to use in your art work without having to wade through those flea markets or similar sales yourself.
You can also find me on Facebook. I only recently started selling in my Etsy shop and I'm launching this site at the same time as my Facebook page. So, I can sorta say "We're at the beginning." although I've been working up to this point for years now!
I want to thank my sister Mary for working with me on building this website. Although I know quite a bit about running the day to day affairs of a website, I'm not the technical type who easily comprehends (or even wants to comprehend) what it takes to set up a site (I'm sorta a technophobe actually). Many thanks Mary!
If you wish to message me, please do so here. I plan to enable comments at a later date after I learn more about protecting the site from spam.
I'm looking forward to this new adventure!
Vicky