The Latest News at Art Creations by Vicky
When looking at my last post, I was surprised to see it was dated 16 days ago! My intentions are to publish a post at least once a week but my lack of posting doesn't mean I haven't been busy with Art Creations. There is a lot going on behind the scenes so I thought I'd give you an update.
New Lines 
I've been working on two new lines – both of which are more affordably priced. I plan on having a selection of at least a half dozen works when I formally announce each line in the next week or two. Here's a sneak peek: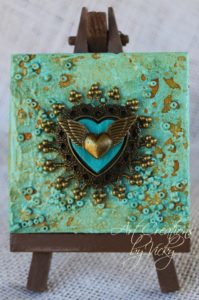 Mini Art is the first new line. It offers even smaller works and they aren't always on canvas. Assemblage art is still the primary element in each and every piece but the design is simpler. Prices usually run $29.95 – 44.95 although there will occasionally be exceptions – both lower and higher.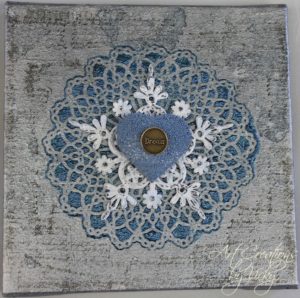 Small Assemblage Art on Canvas is the second new line. It consists of the same type of assemblage that you find on my larger works, it's just smaller and therefore carries a smaller price tag as well – usually in the $59.95 – 79.95 range.
Selling Platforms – What to Do?
Analyzing data and looking at customer (and friends too) comments, I've been closely considering my selling options.
Etsy – As you know, I have a shop on Etsy – Art Creations by Vicky. I've been attempting to assess the effectiveness of this site and determine if it is the best place for the business of selling my artwork. It's definitely a place for creative types – my question is, "Is it the place for non-creative types (those who won't be creating their own art) to come and actually buy art?" Is my most likely customer a creative type (who usually has plans to create their own work) or the non-creative type who appreciates something different for their home? Although I have both types of customers, I haven't settled yet on an answer to that but I'm leaning towards the appreciative non-creative customer.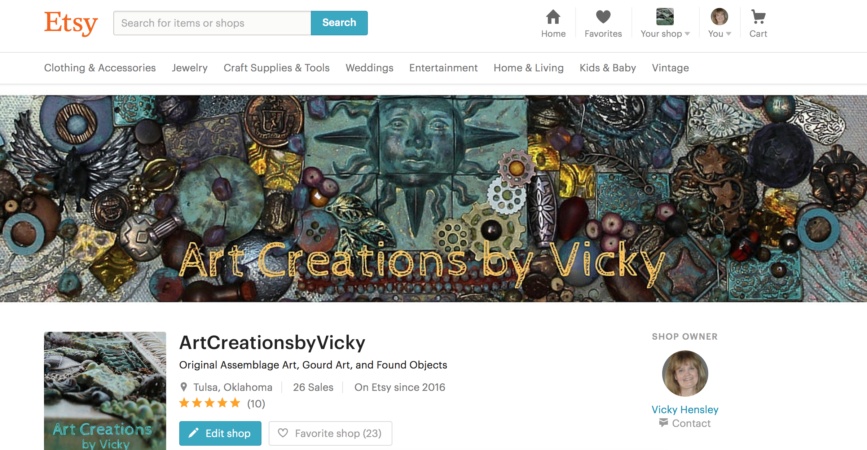 Chances as a new vendor of being seen on Etsy search pages is quite a bit smaller than I envisioned. I have yet to see little, if any, help from Etsy when it comes to those searches or suggestions to a customer that my shop is similar to one of their favorites. New shops remain hidden among a myriad of other new shops. BUT, I'm not one to sit around and complain so I've been looking around for other options. I'm still not ready to take on selling in an actual local shop so what's my next step?
Amazon Handmade – I've decided to keep my Etsy shop and sell on Amazon Handmade as well. It's a relatively new market for the online giant but they definitely have the right customer base. IF the customer can figure out that there are actual handmade artists offering their wares. Here's their byline:
Handmade at Amazon is a new store on Amazon.com for invited artisans to sell their unique, handcrafted goods to our hundreds of millions of customers worldwide.
Amazon Handmade differs from Etsy (although I'm sure they are eyeing the Etsy market) in a number of ways but it centers around an artist's selection. One applies to sell on Amazon Handmade and the application process is not quick and easy. It has the feel of applying for a juried show of which I've participated in many throughout the years. After I submitted my application, my work was deemed acceptable a few days later (supposedly by the Handmade at Amazon team) and I was invited to join. It is more expensive to sell on Amazon Handmade but they are offering a ton of assistance to their vendors to assure a shop is set up in the very best way. I was shocked when I received a call from Amazon Handmade recently to answer in person a question that I had submitted via their Seller Central area. I had expected a mere printed response.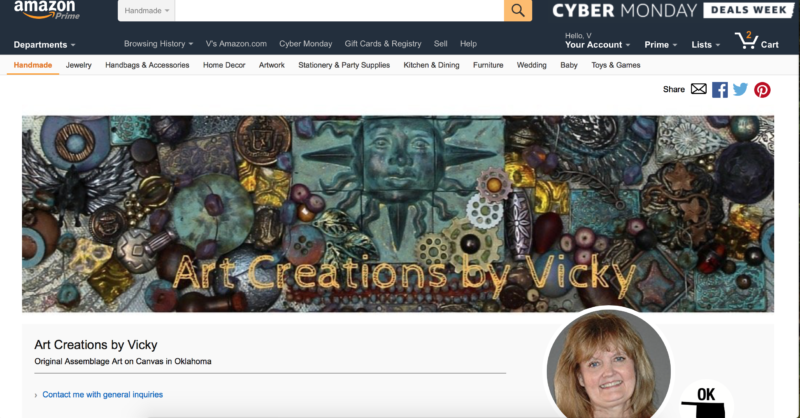 So, here goes. I've read the hype. I've read the comparisons and the pros and cons. Most of it comes from Etsy fans or sellers who were defending their turf around the time of Handmade's launch around a year ago. I'm planning to find out for myself. BUT I have one thing encouraging me to continue – words from an artist friend who highly recommended Amazon Handmade over Etsy (she has shops on both sites) and stated that she sells more on Handmade. So – who knows?
This is definitely a case of "a smaller slice of a larger pie" but Handmade is in its earliest stages and their number of artists can only grow. I'll try "being in" on the ground floor.
Anyway…all that takes time! I'll be running an announcement here when my Handmade shop is ready to go.
And…Watermarks!
Edited to add – my watermarks were deemed unwise by many including Amazon and Google! 🙂  Now they're all gone. Another learning experience. 
Watermarks are those stamps you place on photos of your designs that marks each as your own. I feel that watermarks solidify in the looker's mind that the work belongs to the artist. My works are obviously unusual and unlikely to be reproduced for selling as prints (the usual case for a watermark) but there are other reasons – using my images on another site without permission or another artist actually copying the work. I'm hoping a watermark with discourage either action.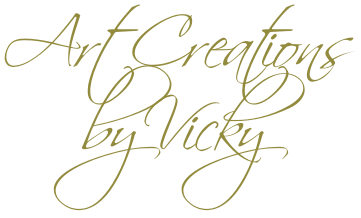 However, watermarks take time – more than I envisioned. So, much of the time I have reserved for art work has been used placing watermarks!
Now back to actually creating art work – not just the process surrounding it!
Vicky
Updated May 18, 2017