Steampunk Wall Art – A Collage of Found Objects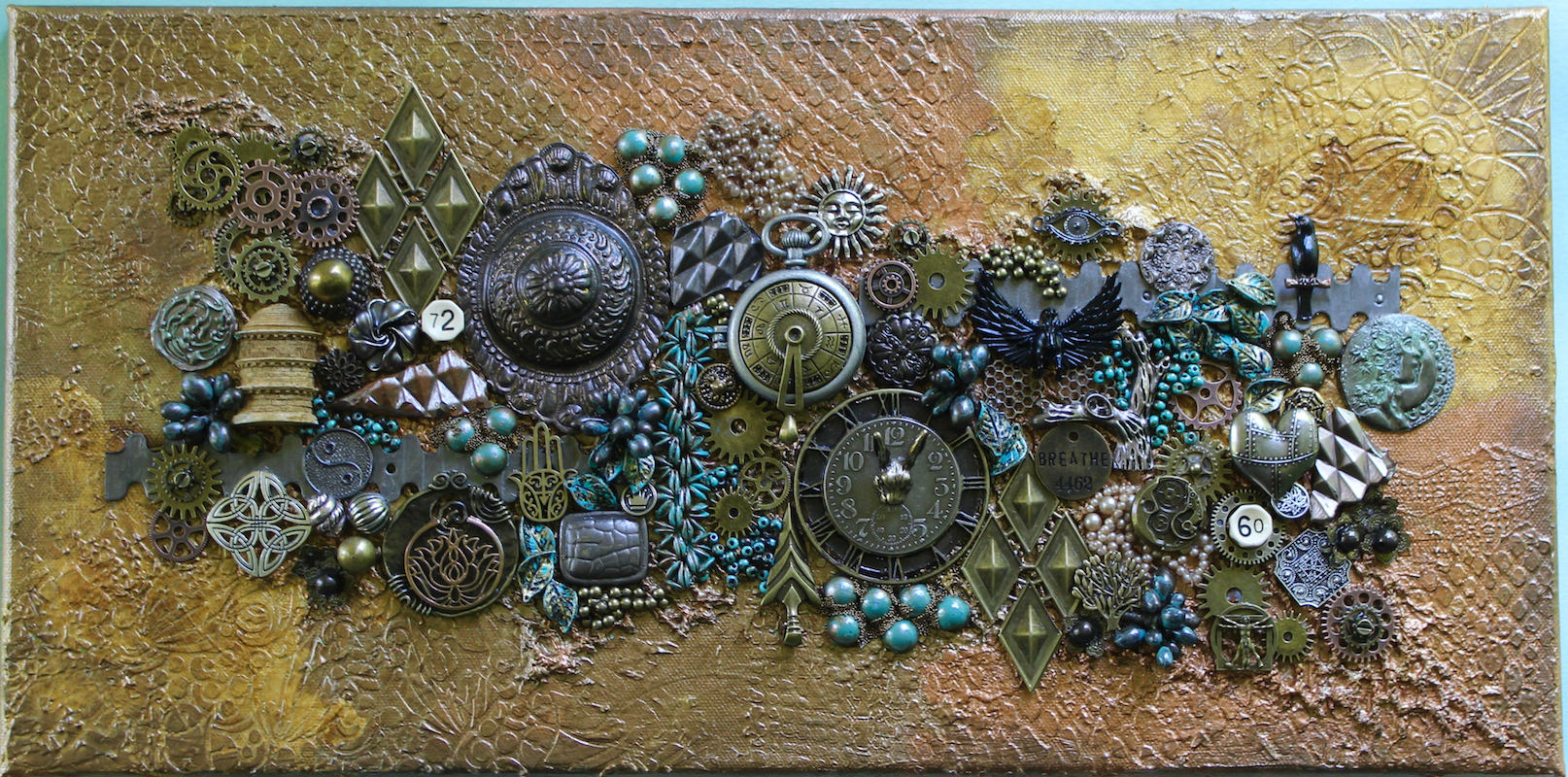 Steampunk Assemblage Art… in an oft-requested larger size – this time a 20″ x 10″ canvas. My steampunk version of Assemblage Art features the industrial and Victorian aspects of this engrossing science fantasy sub-genre leading to some rather fascinating collages. This time I'm featuring ancient and mythical symbolism with elements such as the Celtic knot, Pegasus, yin and yang, lotus flower, hamsa hand, the sun, the eye, and more if you're curious. Look closely and you will see approximately 150 embellishments – both vintage and new – as well as dozens of metal beads.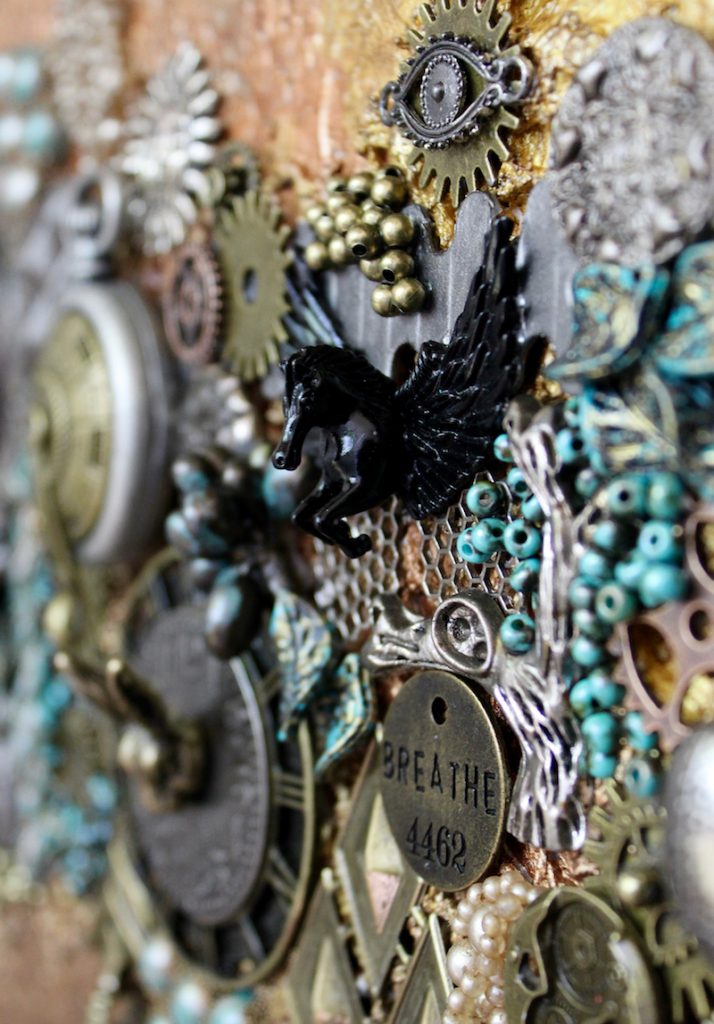 Assemblage Art on Canvas begins with the background – it's not just paint. I start with multiple coats and spritzes of paint on stenciled dimensional paste and pieces of crocheted doilies. I then add more spritzes of highlights and finish off with Finnabair's waxes (which dry to a hard finish). Multiple layers of embellishments are then added to complete this 3D collage to bring it to an overall depth of 2.0″.
Vintage elements include adding machine keys, pearl collar pieces, old bottle glass, metal ornate focal point, beaded necklace, buttons, beads, ancient building (old chess piece), and 1980s jewelry makings.
Newer pieces complete this steampunk look with items such as gears, various beads, bird, brick ties, coins, cabochons, leaves, steampunk heart, buttons, Vitruvian man, wreath berries, clock gears, tree, diamond patterns, hamsa hand, pendants, bracelet sections, eye, "Breathe" word tag,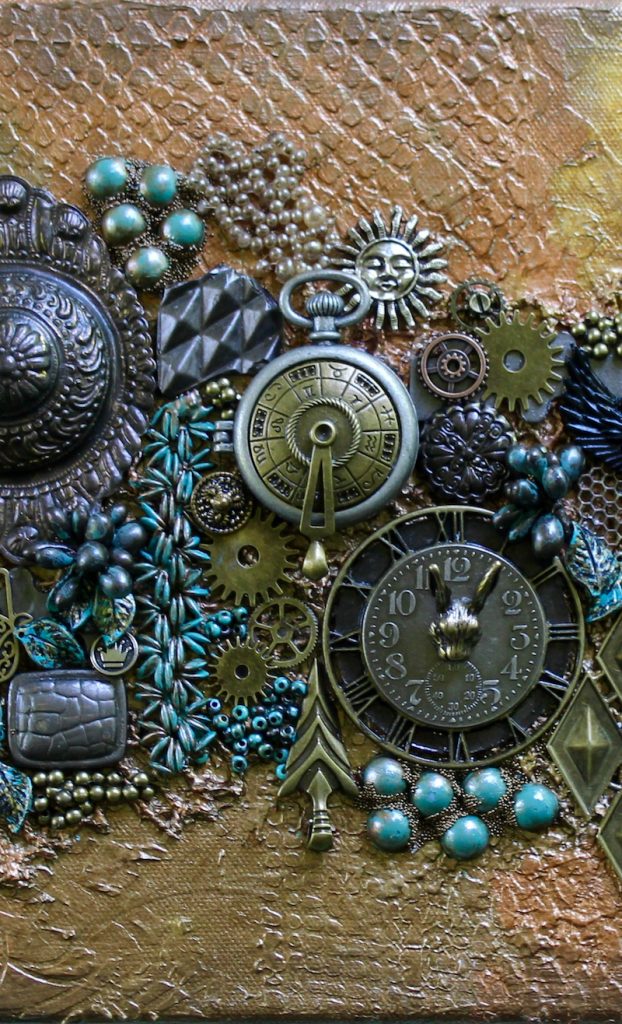 Pegasus, tree trunk, clock round frame, clock face, rabbit, stopwatch case, ancient calendar, sun, metal beads, and various other metal embellishments,
Hangers are attached and, while I prefer the no-frame look, this is ready for framing. This piece will also display nicely on a large table easel.
Dimensions: 20.0″ x 10.0″ x 2.0″
SOLD
All Assemblage Art pieces sold at Art Creations by Vicky are original works from artist Vicky Hensley and one of a kind.