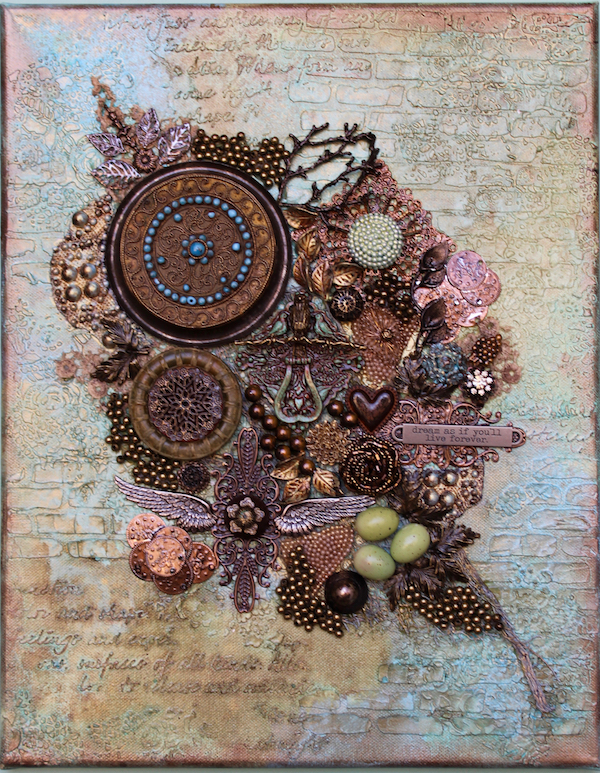 Usually when I finish creating a piece, I feel good about the end result. If I don't feel good about it, I don't list it and place it on the "redo" list. But sometimes when I finish a particular artwork, I simply fall in love with what I have just created. That's how I feel about The Garden Wall.
As I created my background, I knew I wanted it to be a representation of spring. But how did I envision that? I didn't have the slightest idea – these things happen step by step for me. But as I was looking at the completed piece, I saw many signs of an emerging spring season – all placed unintentionally. That's the way it works – and I'm thrilled with the result!
Now for the official description…
The Garden Wall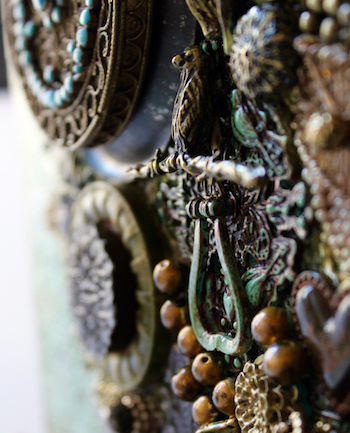 Texture takes a starring role in this 14.0″ x 11.0″ Assemblage Canvas with a background built first with stenciled designs utilizing dimensional paste that is then covered with multiple coats of paint, spritzes, and waxes. And the embellishments! This assemblage canvas contains around 90 elements plus dozens of metal beads. Its depth is 1.5″.
A bird sits on a branch at the center of this piece and the stenciled background is meant to give the impression of an old garden wall with its brick and rose patterns. As I created, my mind pictured an emerging spring season.
Just what is assemblage? It's the creation of a larger art piece from smaller objects. Best described as a 3D collage on canvas, my assemblage art pieces contain numerous vintage "found objects" as well as newer embellishments.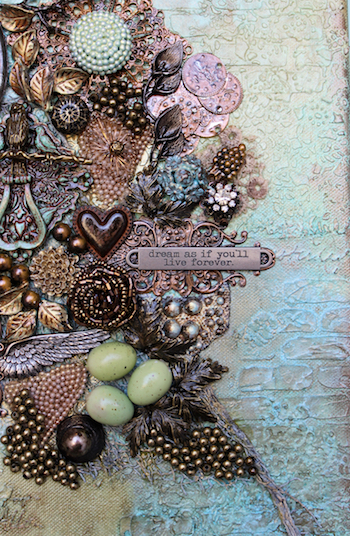 Here those vintage items include pieces of two different beaded purses, child's tin pie pan, round brass box lid, antique lace, coin charms, imitation Robin's eggs, paper milk bottle cap, beads, and jewelry makings from the 1980s.
Newer pieces include various metal filigreed shapes, door knocker, several types of leaves, small metal beads, cheesecloth, cabochons, beaded flower, wooden round and half circle, and metal wings, branches, heart, bird, and spacer.
And engraved into the word charm, you'll find, "dream as if you'll live forever."
Hangers are attached and, while I prefer the no-frame look, this Assemblage Art piece is ready for framing. It will also display nicely on an easel.
Dimensions: 14.0″ x 11.0″ x 1.5″
$119.00
Available for purchase at my Etsy shop.
All Assemblage Art pieces sold at Art Creations by Vicky are original works from artist Vicky Hensley.