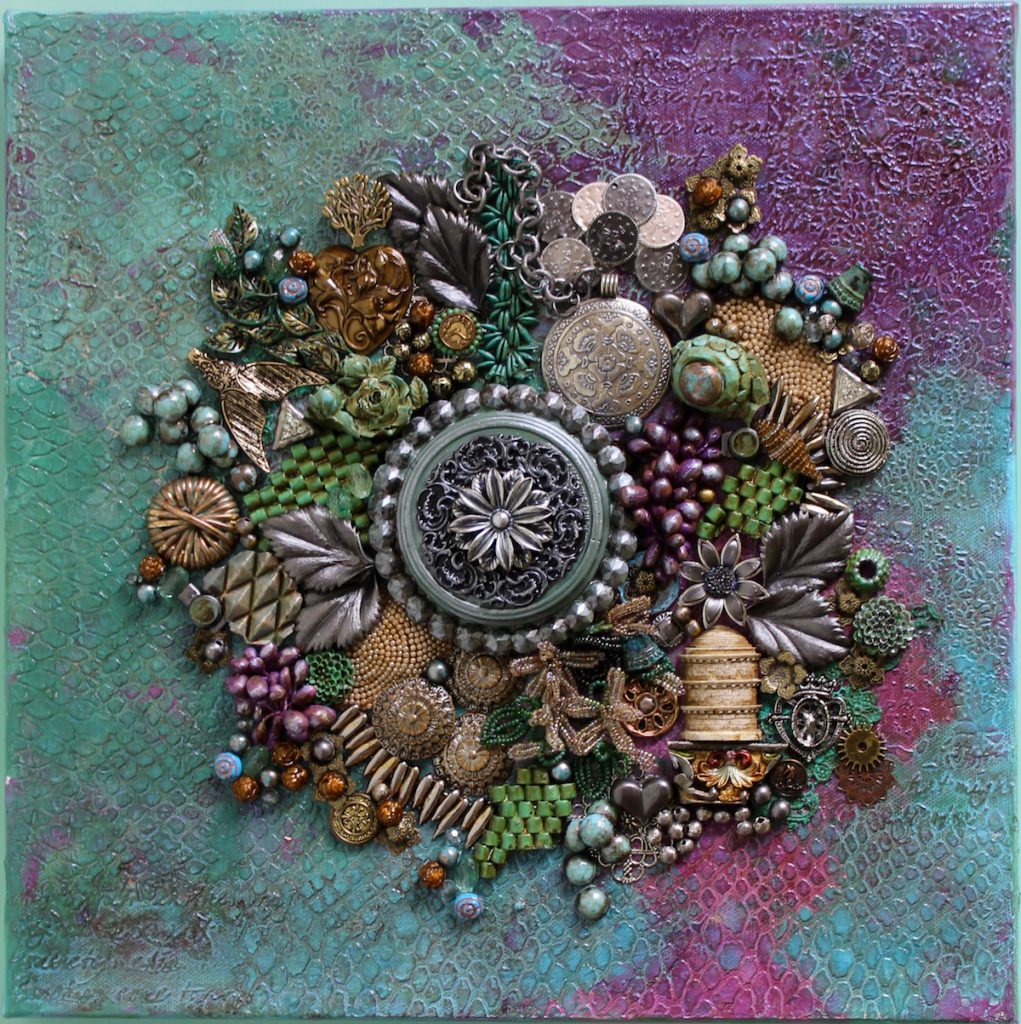 This time around, I wanted intense color so I turned to Art Alchemy's Impasto paints. The colors blend wonderfully even while remaining distinct yet they don't shout "loud". The challenge for me here was the central focal point which I rarely feature. I'm an asymmetrical sort of gal and "center" comes too close to a symmetrical design for me to start creating easily. I had to convince myself that I COULD create a balanced design without feeling the need to match elements equally on each side. In the end, I'm excited about the final design and don't feel the need to avoid those central focal points in the future quite so much.
Now for the official talk…
Colorful Collage
Featuring a mixture of gorgeous yet intense colors, the overall effect of this latest Assemblage Collage is that of subtle beauty. I chose a variety of silver and bronze shades for accenting and I'm so pleased with the result.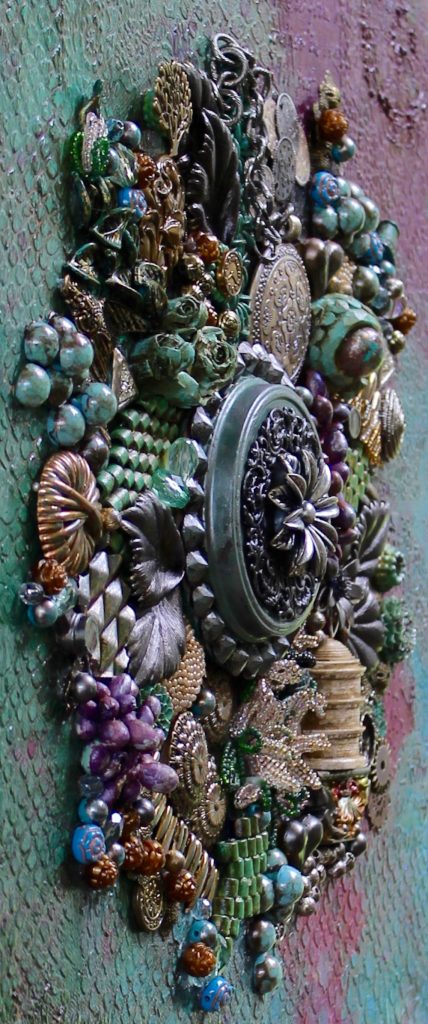 This 14.0″ x 14.0″ 3D collage has a background built with multiple coats and spritzes of paint and waxes over several stenciled designs utilizing dimensional paste on a gallery wrapped canvas. Its depth is 3.0″.
Just what is assemblage? It's the creation of a larger art piece from smaller objects. Best described as a 3D collage on canvas, my assemblage art pieces contain numerous vintage "found objects" as well as newer embellishments.
And the embellishments! It contains more than 200 elements. Here those vintage items include chain, beaded necklace, belt section, portions of a faux beaded purse, beaded flowers, patterned glass, bracelet links, pieces of beaded wall art, metal beads, plastic jewelry dish, chess piece (building), various frame portions, buttons, beaded leaves, antique crocheted lace, resin fragment, 1980s jewelry makings, faux coins, and various mechanisms.
Newer elements include metal embellishments – tree, leaves, shield, gears, flowers, and various filigreed designs, pendant, smaller leaves, hearts, a variety of beads, mermaid's tail, cabochons, buttons, berrie, and large filigreed round.
Picture wire is attached to the canvas for ease in hanging. Although this piece is ready for framing, its gallery wrapped canvas measures 1.5″ in depth and that's just for the canvas. This type of canvas is usually displayed "as is". Overall depth with embellishments is 3.0″.
Dimensions: 14.0″ x 14.0″ x 3.0″
$169.00
Available for purchase at Etsy
All Assemblage Art pieces sold at Art Creations by Vicky are original works from artist Vicky Hensley.