A Spray of Hearts and Roses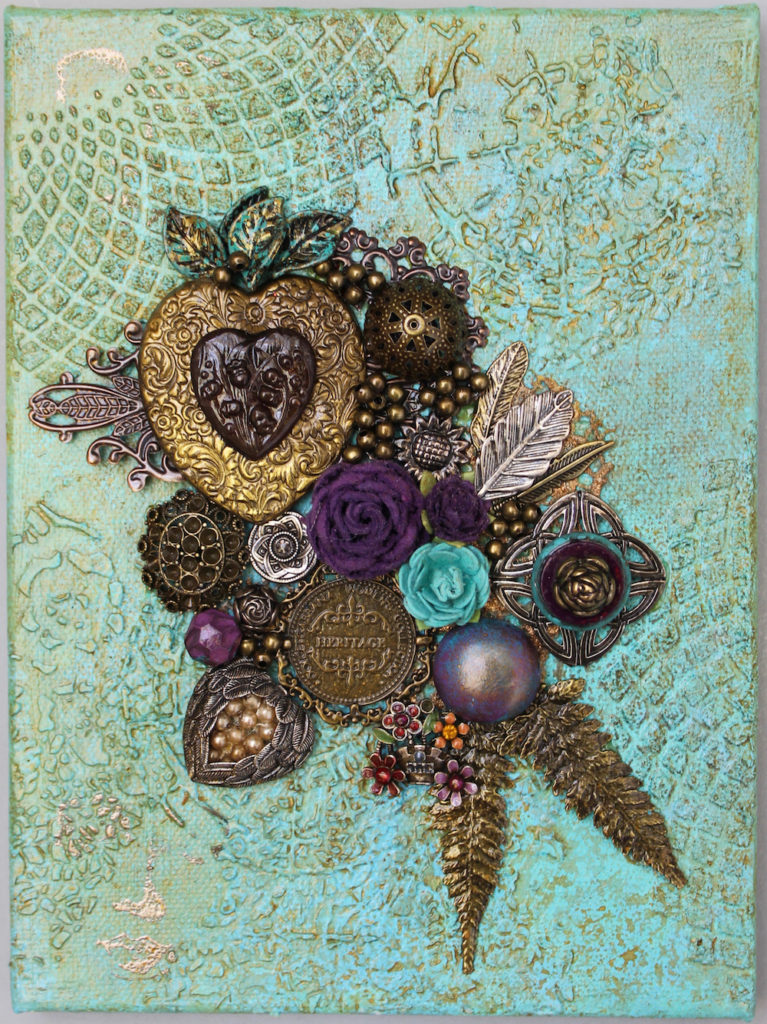 This Assemblage Art piece has an especially romantic feel with its spray of hearts and roses spilling down the canvas. Assemblage is the method of creating a larger art piece from smaller objects. Best described as a 3D collage on canvas, it contains numerous "found objects" as well as newer embellishments.
Measuring 8.0″ x 6.0″ x with a depth of 1.50″, the background is textured with stenciled modeling paste and finished off with a number of paints, spritzes, and waxes. A total of 32 embellishments plus 30 brass beads makes this piece perfectly complete.
Older elements (the found objects) include vintage bracelet link, a fragment of pearl purse, button, bead, portion of an antique lace collar, and metal feathers. Newer elements include metal leaves, hearts, fabric roses, buttons, Heritage emblem, filigreed metal stampings, wood half round, and other metal embellishments.
Hangers are attached and, while I prefer the no-frame look, this Assemblage Art piece is ready for framing. It will also display nicely on an easel.
Dimensions: 8.0" x 6.0" x 1.50″
$59.95
Available for purchase at my Etsy shop
All art sold at Art Creations by Vicky is the work of artist Vicky Hensley and one of a kind. 
Note: The use of descriptive words such as brass and pearl are just that – I can't verify that the beads are brass and assume the pearls are only decorative.
SaveSave
SaveSaveSaveSave
SaveSave