When creating Roses on Canvas, I must have been in a rather extravagant mood. I mean… I kept adding roses! And it felt good to just let it flow knowing it would all come together eventually. The result is a rather lush look compared to my previous artwork but one I'll definitely pursue again. I love the 2.5″ depth – that in and of itself feels extravagant for a 9″ x 12″ canvas.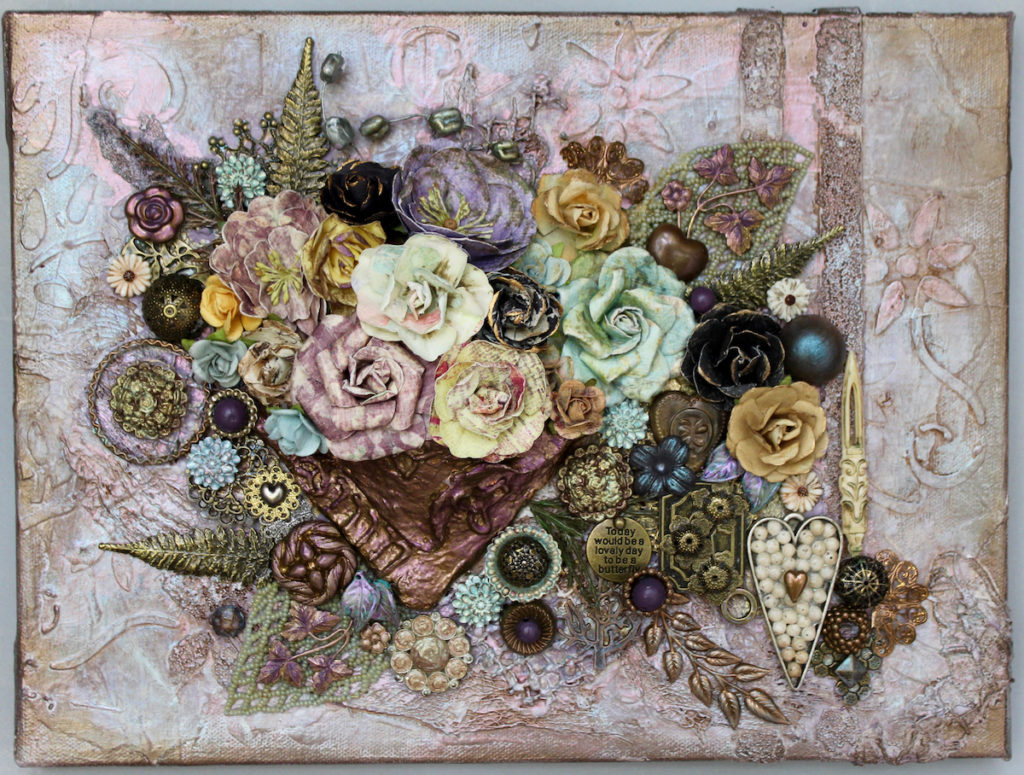 The official Description:
All of my Assemblage creations fall into the category of 3D wall art, some more than others, as with this 9″ x 12″ lush 3D flower canvas that measures 2.5″ in depth. It's rose art at its best with a profusion of roses spilling out of the basket in every direction and therefore earned the name Roses on Canvas. And just as with the majority of pieces, it contains numerous found objects – small elements I find at vintage markets or estate sales. The basket holding the roses? It's actually part of large boy's toy that reminded me of a pocket envelope.
In my Assemblage canvas art, the background is comprised of multiple layers. Here, I've layered stenciled texture paste, gauze, bias tape, mini beads, Battenburg lace, and numerous paints before finishing off with metallic spritzes and waxes.
Vintage found objects include: bead collar, half wood round, chandelier piece, beads, filagreed round, decorative hors d'oeuvres fork, hat netting, metal leaves, buttons, earrings, toy piece, and beaded cones. Newer elements include beaded garland, various metal embellishments, resin leaves, paper/fabric roses, floral cabochons, word charm, filagree rounds, more metal leaves, and metal hearts.
Hangers are attached and, while I prefer the no-frame look, this is ready for framing. This piece will also display nicely on an easel.
$79.95
Available for purchase at my Etsy shop
Dimensions: 12.0" x 9.0" x 2.5″
All art sold at Art Creations by Vicky are the work of artist Vicky Hensley and are one of a kind.
Thanks for stopping by!
Vicky