Tree of Hearts
Tree of Hearts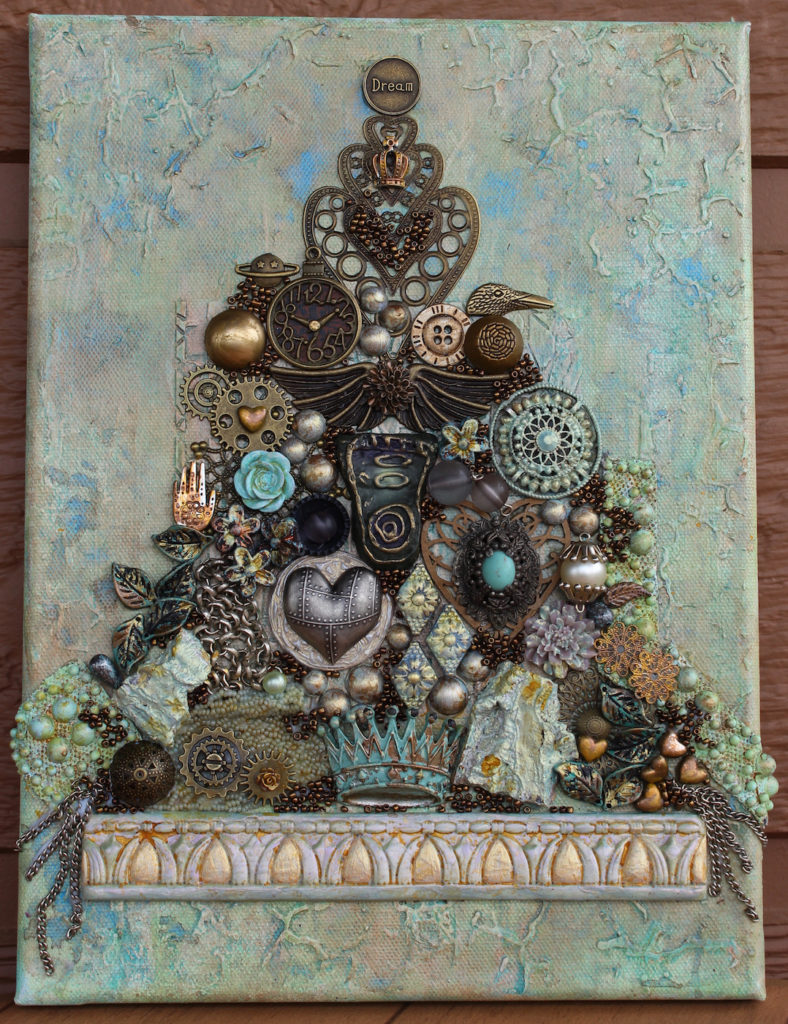 SOLD
Call me a softie, but I love hearts in assemblage art – all sizes and makeup – crooked or traditional – bold or subtle. In Tree of Hearts, you'll find 12 hearts among its plethora of found objects and embellishments.
Vintage found objects (old stuff) include an odd plastic toy piece (center), brooches, chains, pieces of beaded purse, buttons, beads, section of beaded collar, and necklace links. Natural elements – tree bark.
New embellishments include (but not limited to) gears, clock, hearts, bird charm, planet charm, distressed heart, metal stacked hearts, crowns, leaves, resin cabochons, and beads.
I handcrafted a decorated strip of polymer clay to run along the bottom of the piece.
Attached hangers for wall hanging. Although most of my Assemblage Art pieces can be framed, I don't suggest framing Tree of Hearts. Embellishments hang over the edges as part of its intricate design.
All natural items have been treated to assure the absence of pests.
Dimensions: 12″ x 9″ x 1.50″   With overhanging embellishments – 12″ x 9.375″ x 1.50″
SOLD
All art sold at Art Creations by Vicky is the work of artist Vicky Hensley and one of a kind.