Wings Surround Me
Wings Surround Me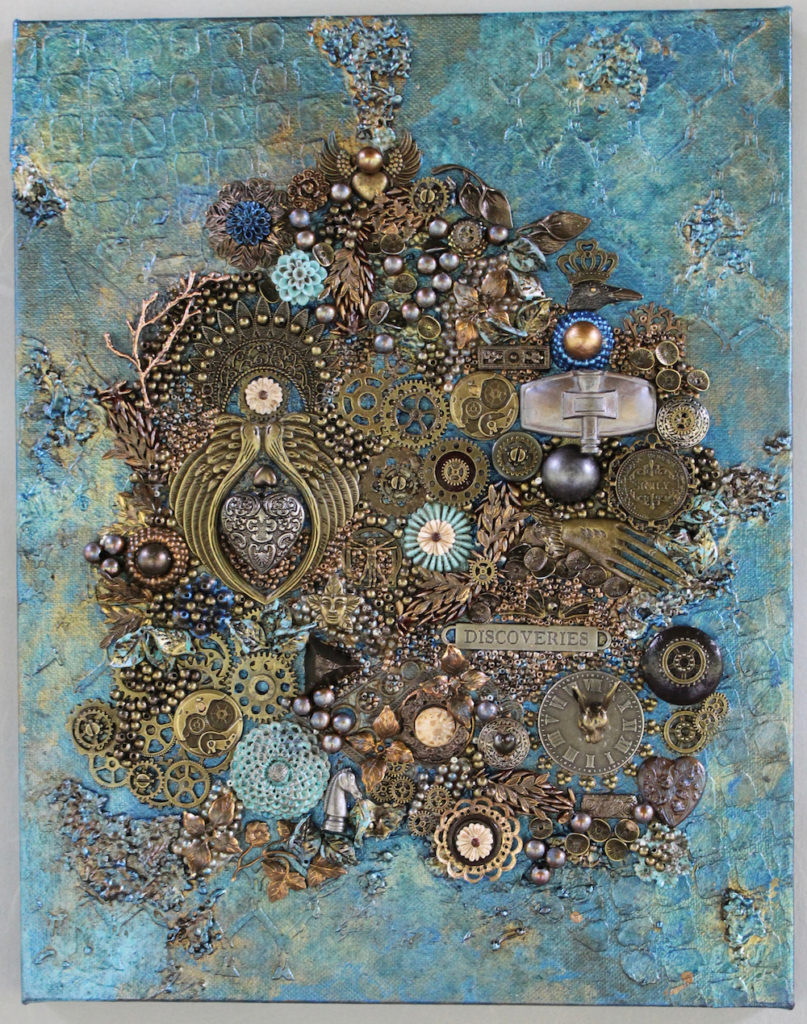 The feel of deep blue without being dark – that was the idea lurking in my mind's eye as I started preparing the background for this unusual taste of steampunk wall art. While steampunk elements can be found throughout the piece, I leaned towards creating a sense of overall beauty rather than the more functional feel of steampunk. Result – a beautiful Steampunk Assemblage Canvas!
I chose to mix deep blue and a lighter blue silver with bronze tones for a foundation textured with stenciled modeling paste, adding highlights of color as I layered elements (found objects) – both vintage and new. The "DISCOVERIES" word charm seemed to be the perfect finishing touch. It measures 14.0" x 11.0" x 1.375".
This piece contains approximately 200 found objects plus hundreds of smaller and medium beads. Vintage found objects include: toy piece, beads, buttons, numerous jewelry makings, and 3D wood shapes. Newer items include: flower face, word band, bracelet links, raven, rabbit head, crown, Vitruvian man, leaves, cabochons, wings, winged heart, gears, chess piece, branch, hearts, hand, clock, and various metal embellishments.
$119.00
Available for purchase at my Etsy shop.
Dimensions: 14″ x 11″ x 1.375″
Hangers are attached and, while I prefer the no-frame look, this is ready for framing. This piece will also display nicely on a large table easel.
All art sold at Art Creations by Vicky is the work of artist Vicky Hensley and one of a kind.