The Long and Narrow 3D Collage

I've been creating like mad lately and have several new artworks ready for listing. The first is, in fact, long and narrow but remains a popular choice as the possibilities for display are many.
My art studio walls are ever-changing these days. Not only am I occasionally sending off a sold piece of artwork, but I'm creating large art as well which means there is less and less room on those walls as I wait to unveil my larger art line in February. I'm loving every bit of it but still creating my beloved found object art.
Now for the official description…
This 12.0″ x 4.0″ Assemblage canvas collage features Leonardo da Vinci's Vitruvian Man atop a filigreed section of a vintage necklace. This particular size is especially popular as a unique accent piece for your wall – it's lovely, displayed alone or works beautifully in a wall arrangement.
The depth of this piece is 1.25″. The background is textured with stenciled modeling paste and finished off with a number of paints, spritzes, and waxes. Twenty-nine embellishments were then added of which thirteen are vintage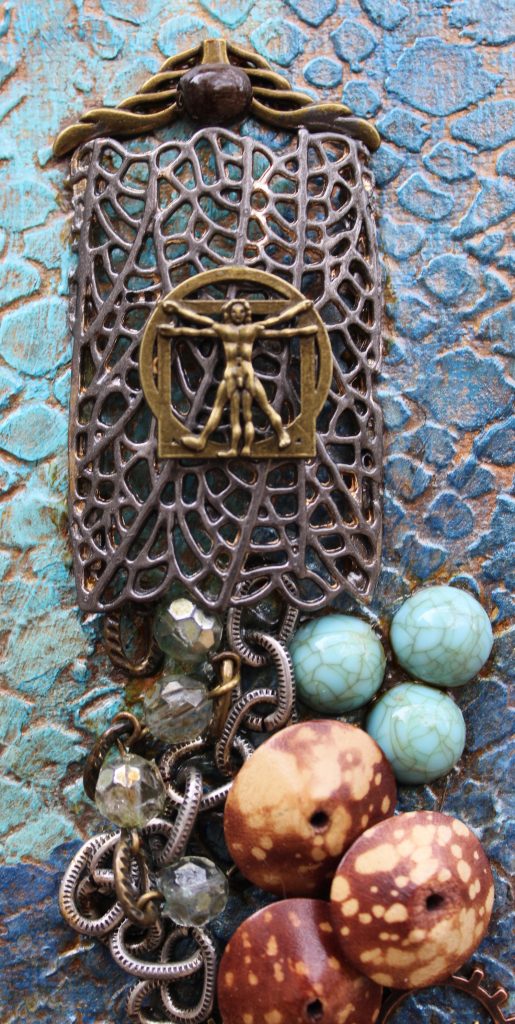 Embellishments include beads, Viturvian Man, wings, filigreed necklace piece, cabochons, disk necklace beads, gears, and vintage chain and buttons.
This size is easily displayed in a number of placements – on a narrow wall or next to a cabinet or as part of a larger display. The possibilities are numerous – therefore the reason for its popularity
Hangers are attached and, while I prefer the no-frame look, this Assemblage Art piece is ready for framing. It will also display nicely on an easel.
Dimensions: 12.0" x 4.0" x 1.25″
$59.95
Available for purchase at Etsy
Checkout at Etsy is easy – you can do so as a guest – no need to join.
All art sold at Art Creations by Vicky is the work of artist Vicky Hensley and one of a kind.