Collage Art – a Vertical Pair
Collage Art – a Vertical Pair

SOLD
Other artwork available for purchase at Art Creations by Vicky
Vertical Assemblage Collages sell well here at Art Creations by Vicky. It's a shape that fits nicely in a variety of wall spaces. This time, I split the vertical into two canvases – where one leaves off, the second continues the design.
On gallery wrapped canvases, I blended a lighter blue with turquoise for a background that is textured with stenciled modeling paste and finished off with a number of paints, spritzes, and metallic waxes. Embellishments are adhered to the canvas to form a three-dimensional design.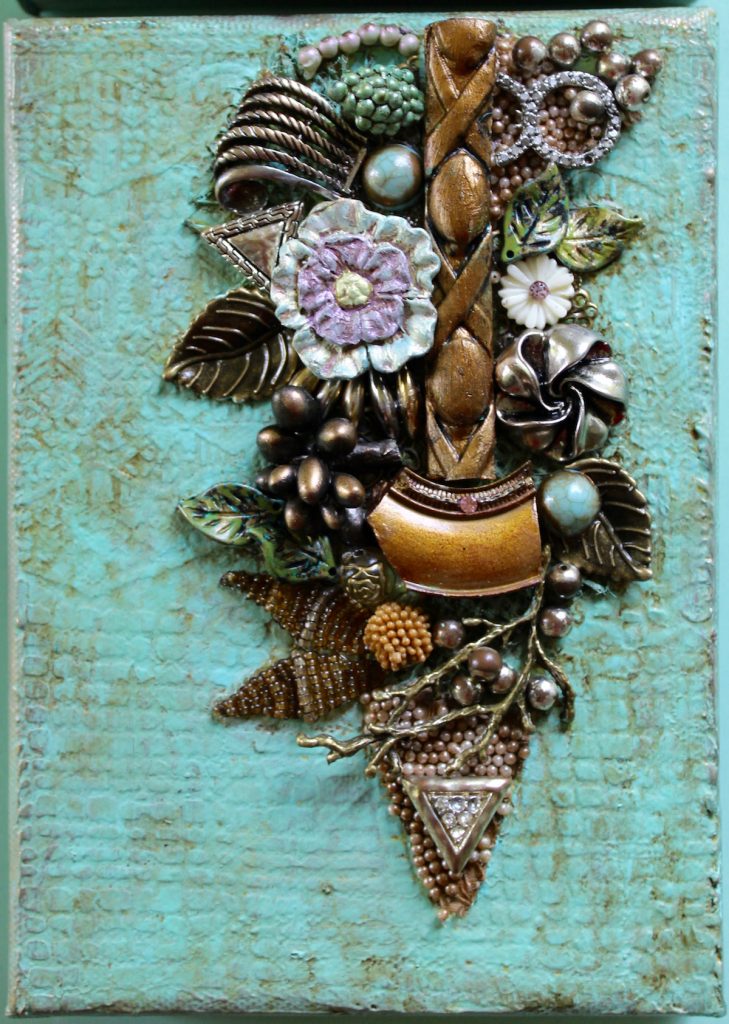 You'll find around 80 embellishments in this pair of Assemblage Collages. Many of those are actually vintage found objects including pieces of a faux pearl purse, beaded leaves, various bracelet links or lengths, a cupped bezel, earring, buttons, belt buckle, 1980s jewelry makings, piece of a brooch, beads, and partial frame.
Newer elements include shield, star, mini leaves, cabochons, berries, filigreed metal, face, flowers, metal bead, larger metal leaves, button, plaster flower, and burlap. The polymer clay columns that form the center of the design were fashioned by yours truly.
Each canvas measures 7.0″ x 5.0″ giving the set total dimensions (with a 1″ space between the two) of 15.0″ by 5.0″ with a depth of 2.25″. Hangers are attached and, while I prefer the no-frame look for gallery wrapped canvases, this assemblage art pair is ready for framing.
SOLD
Dimensions when hung together as suggested: 15.0″ x 5.0″ Depth 2.25″
All art sold at Art Creations by Vicky is the work of artist Vicky Hensley and one of a kind.