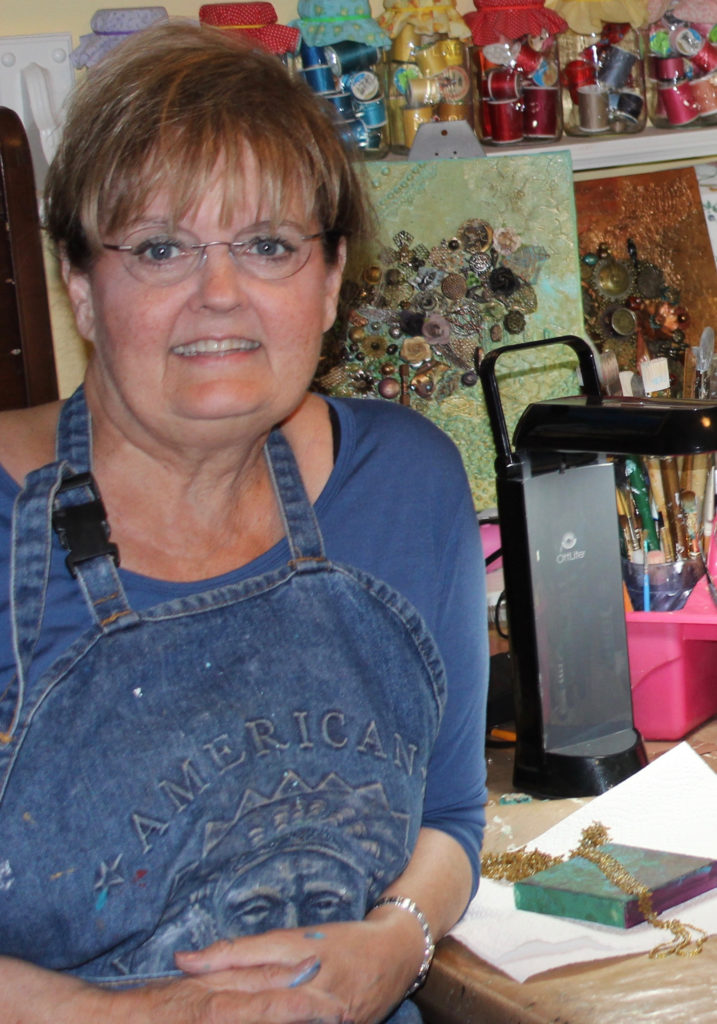 Although I've been artsy all my life, I now create primarily in two mediums that are distinctly separate yet cross into one another – Assemblage Art on Canvas and Mixed Media. Eleven years ago, I fell in love with Assemblage Art as I learned how to blend multiple "found objects" and other mediums into one art piece – it completely captured my imagination. I discovered that Mixed Media techniques provided the basis for many of my Assemblage works.
Just what is Assemblage Art on Canvas? It starts with a canvas that is first textured, painted, spritzed, textured yet again with more paint and then more spritz. I repeat as needed. Gradually I start adding Found Objects – embellishments that vary in size and impact. Many of these items are vintage pieces I've found while searching out flea markets and such or, even better, bits of a larger piece. Some embellishments, such as beads or charms, may be from a new supply. I keep layering these objects, painting again, spritzing again until I'm satisfied with the end project. I never know exactly what I'll end up with – it's all part of the creative process and guarantees that each work is "one of a kind".
I'm constantly on the hunt for the objects used in my Assemblage Art pieces and love exploring vintage marketplaces, flea markets, and estate sales. Each of my Assemblage Art pieces features a number of these "found" objects. Upon request, I'm happy to provide the buyer with a list of items used to create their piece.
I enjoy the hunt for found objects so much that my art room is now overflowing with my finds so I'm selling a number either individually or in a grouping. You'll find these in the Found Objects section. 
I sell my artwork locally and through my Etsy shop – Art Creations by Vicky (technically artcreationsbyvicky at Etsy) You can find me on Facebook as well – Art Creations by Vicky.
I also sell some of my found objects on Etsy – either individually or in a grouping – ever heard of "destash"? It's a fun way to acquire unique items to use in your artwork without having to wade through those flea markets or similar sales yourself.
My art room is a very special place to me and I love sharing ideas on efficient organization, storage, your all-important workstation, and making it all visually pleasing and comfortable.
And since I'm a teacher by nature, I also occasionally share methods I utilize when creating my artwork. I can recall my confusion those first few years of working with Assemblage Art when I was inspired by a particular piece but had absolutely no idea how to go about the creating.
All art pieces sold at Art Creations by Vicky are one of a kind originals and creations of artist Vicky Hensley. All artwork sales are final. Returns and exchanges are allowed on non-artwork pieces.
I retain the right to use photographs of sold original artwork for promotional purposes or as an image for various prints.
Save
SaveSave