Old Clocks – Creative Treasures
Old Clocks – Creative Treasures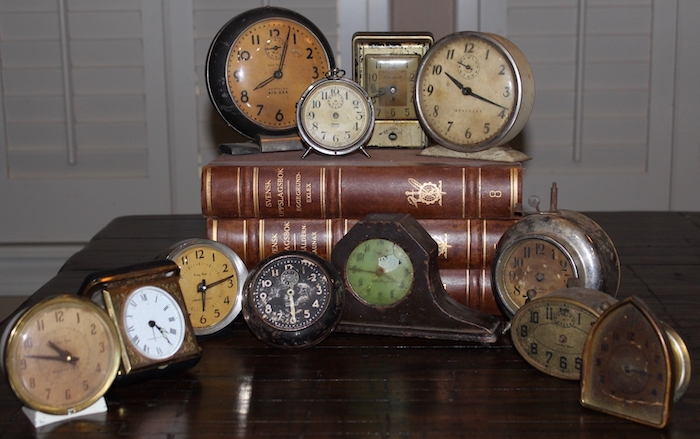 A dozen old clocks well past their prime equal an Assemblage artist treasure trove. Last week, my junking buddy, Liz, and I discovered one heck of an estate sale (well, she discovered – I eagerly accompanied her). The sale was actually just around the corner from me and hit my "impressive sale" meter. Upon entering, it appeared to be a beautiful estate sale and then you reach the bedrooms and the garage… holy moly – clocks everywhere! Old clocks – clock parts – clock faces – clock hands – sitting in boxes everywhere. I'm estimating at least 200 really old beyond-their-prime clocks.
Since an old alarm clock is a wonderful thing to behold when disassembled, I saw tons of assemblage art potential everywhere I looked. And affordable!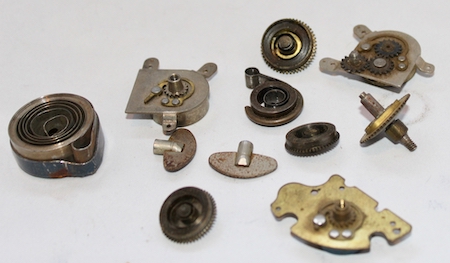 My main consideration when choosing my batch of clocks was the face. I wanted old worn faces – they make the very best focal points for the 3D collages I create and call Assemblage Art.
And then inside the case! More treasure in the form of gears, springs, and other mechanical pieces that will work perfectly in a 3D collage.
You find the best assemblage pieces in the most unlikely places. As you are wandering a flea market or estate sale, imagine how that everyday item could work… disassembled in many pieces.
Wishing you creative adventures!
Vicky