Three New Mini Canvases
Three New Mini Canvases

January is proving to be a busy time in my art studio. Primarily I'm turning out larger canvases for my second art line I'm introducing in March. But I can't stay away from my original found object art so another area of the studio is dedicated to creating the assemblage wall art that you have seen from me for years.
Within the last week, I've listed three new mini canvases – all measuring 4″ x 4″ – at my Etsy shop. Below you will find links to a full description of each.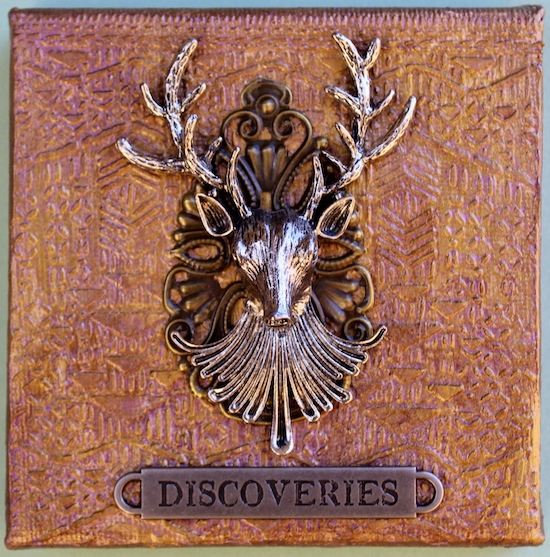 Looking as though it stepped from a fairy tale, this dreamy version of a deer appearing from a vine-filled forest is part of my Mini Assemblage Art on Canvas line. Its word tag, Discoveries, refers to that which we have yet to see and learn.
$44.95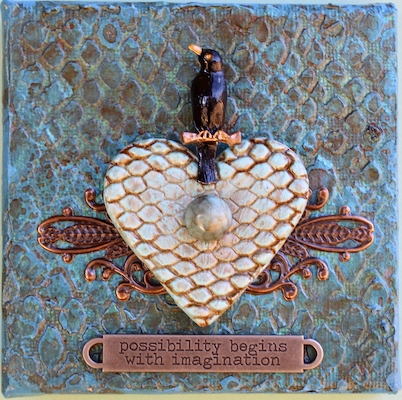 When I create, I do so with symbolism in mind. I've used several here starting with the bird that symbolizes freedom and perspective sitting atop a heart which tells us of deep and stable love. The word tag adds imagination – our capacity for creative expression – with, "Possibility begins with imagination."
$49.95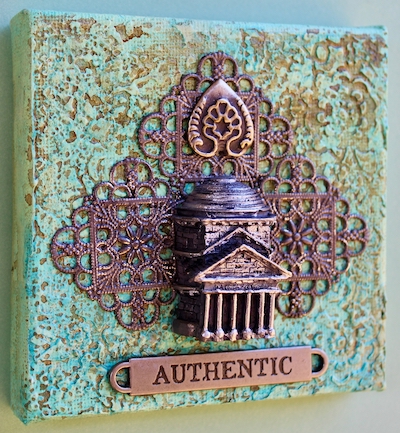 Named "Mystically Authentic", this taste of 3D wall art is part of my Mini Assemblage Art on Canvas line. It's an original 3D collage measuring 4″ x 4″ x 1.25″. Before painting with blues and greens, the entire canvas was textured with a climbing rose dimensional paste pattern.
The building that forms the focal point is actually a vintage chess piece that has been cut in half to allow attachment to the canvas. Other items used to form this design include several metal filigrees, word tag, and a charm.
$44.95
Even if you don't consider yourself artistic, you can live creatively. I encourage you to do so!
Vicky