A Whimsical Blue
A Whimsical Blue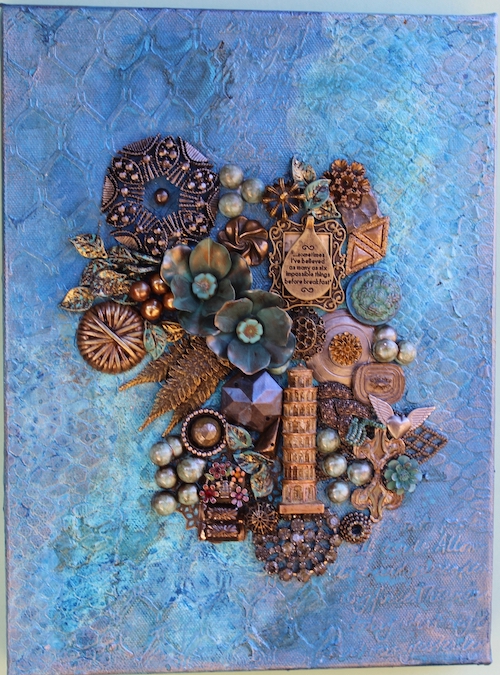 Blue – done just right! This 3D collage leans toward a more traditional assemblage art look with a splash of steampunk and a good dose of whimsical.
The quote charm sets the mood with a favorite quote from Alice in Wonderland, "…sometimes I've believed as many as six impossible things before breakfast." The whimsey continues with a Leaning Tower of Pisa (which is actually half of a vintage chess piece) and a winged heart.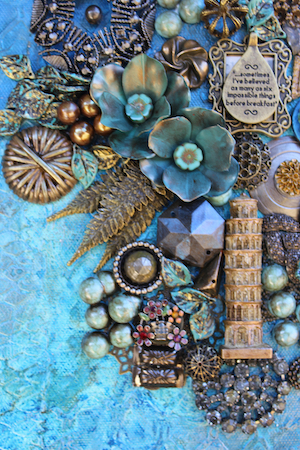 On a 12.0″ x 9.0″ gallery wrapped canvas, the depth of this piece is 2.50″. The background has multiple coats and spritzes of paint with stenciled textured designs. Multiple layers of embellishments are then added to complete this 3D collage.
Look closely and you will see approximately 80 embellishments – both vintage and new. There are around 30 vintage elements which include the Tower of Pisa, necklace section, four types of bracelet links, buttons, beaded leaf, a length of a faux alligator watch band, 1980s jewelry makings, earring, metal flowers, wreath, and a portion of a beaded collar.
Newer embellishments include cabochons, various metal leaves, beads, buttons, frame, several filigreed designs, and winged heart.

Hangers are attached and, while I prefer the no-frame look, this is ready for framing. This piece will also display nicely on a large table easel.
Dimensions: 12.0″ x 9.0″ x 2.50″
$99.95
Available for purchase at my Etsy shop.
All Assemblage Art pieces sold at Art Creations by Vicky are original works from artist Vicky Hensley and one of a kind.