Time Tells – A Clock Collage
Time Tells – A Clock Collage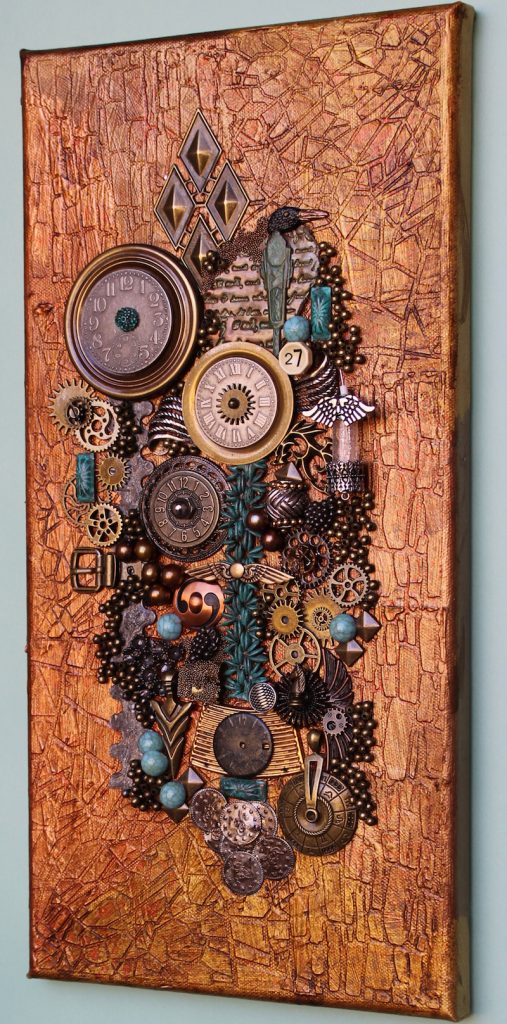 Finally – a sunny day yesterday! I pulled out the camera and set up my little photo shop on my front porch – the perfect spot for photography… when the sun shines just so.  I had several new art creations waiting for just such a day. This is the first of that group – a collage of time. I'll have the other two listed by the end of the day.
In Time Tells, you'll find four clock faces and even a sun dial. It's a bit steampunk but probably falls more into eccentric traditional assemblage art. How's that for a categorization?!
Now for the official stuff…
Clock Collage – Found Object Art
This original steampunk work of art is 3D assemblage canvas art at its best with a background comprised of multiple coats and spritzes of paint over stenciled textured designs that is then finished off with a metallique wax. Measuring 16″ x 8″, this artwork tells the story of time with four clocks and a sundial sprinkled across the canvas.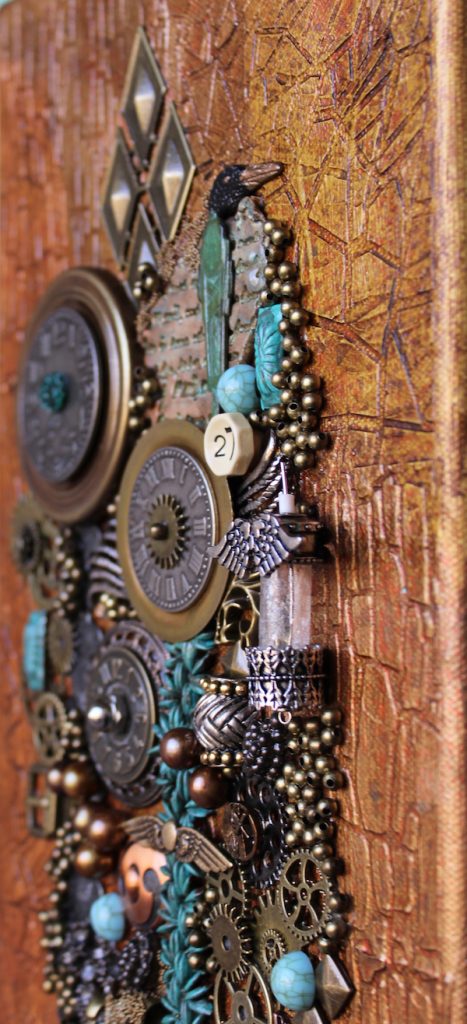 I love to include many tiny details in my assemblage artwork – not only adhering dozens of pieces onto the canvas but carefully painting and aging many of those items one by one. This piece includes around 85 embellishments plus dozens of metal beads.
Many of those embellishments are vintage found objects including assorted metal disks, bracelet links, adding machine key, various necklace links, earrings, 1980s jewelry makings, imitation coins, watch face, and a beaded necklace.
Newer elements include a multi-diamond shape, clocks, cabochons, vial, art deco embellishment, bird head, gears, large beads, wings, mortar tie, belt buckle, square metals, chess knight, wings, sundial, buttons, and other various metal embellishments.
Hangers are attached and, while I prefer the no-frame look, this Assemblage Art piece is ready for framing. It will also display nicely on an easel.
Dimensions: 16.0″ x 8.0″ x 1.25″
$99.95
Available for purchase at my Etsy Shop
All Assemblage Art pieces sold at Art Creations by Vicky are original works from artist Vicky Hensley.